WOLFS is a large, rambling gallery on the east side of Cleveland doing business here for over 45 years. WOLFS began life as an auction house and with a proud history in that world evolved to become a very different, eclectic art gallery dealing in fine paintings, sculpture and certain decorative arts.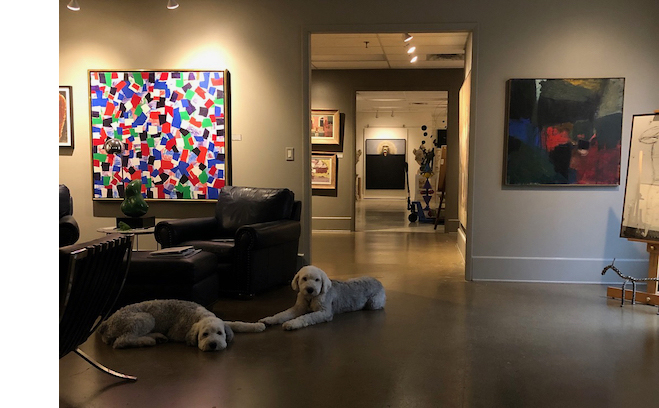 In our long history we've set world record prices for artwork, sold many important estates and collections including Fine Art, Photography, Americana, Contemporary Art Glass . . . literally hundreds of thousands of items. And now for the last 10 years, we have become a small personal operation with a large and interesting collection.
We pride ourselves on the eclectic vibe of our gallery. We thrive on the excitement of dealing with many different works each with a different world of collectors ranging in periods, styles and disciplines; something we surely inherited from our many years as an auction house.
Unlike most galleries, the personality of our collection is ever-changing as we react to opportunities in the different markets we embrace.
Selling Art
We serve collectors, both beginning and sophisticated, we like to help build collections and support those seeking to realize their own artistic vision. We understand value and its importance in all of our relationships. Great things are not necessarily expensive things and there is a welcome place in our world for collectors with varying levels of income.
We serve designers who enjoy the variety and quality of our collection. Some designers prefer to hunt down artwork for their clients others encourage clients to tour through our various galleries on their own. Designers usually get it and we immensely enjoy working with this creative bunch.
We foster relationships and work hard to meet the art related needs of all the people in our world.
Fine Art Wanted
Acquiring fine art is our passion and keeps the gallery's heart pumping. We handle the estates of select artists and collectors and often purchase individual works outright. We work with lawyers, the families of collectors, auction houses and other dealers in a full time effort to keep the gallery filled with great artwork. We encourage those needing to sell to contact the gallery, email images or call us.
These pages are filled with images of some of the interesting and important artworks we have handled over our many years, originally as an auction house and now a gallery, and tell a part of our story that words cannot depict. Please enjoy perusing some of the fine works and artist we have handled over the years.
Appraisals
An appraiser is a professional with the expertise and credentials needed to evaluate property. Bridget McWilliams is an Accredited Member of The Appraisers Association of America. The Appraisers Association of America is an international organization based in New York City with members in cities across the country as well as in Canada, Europe and Asia.
WOLFS specializes in the appraisal of fine art, antiques and personal property for private clients, attorneys, banks, trust and estate officers and institutions. We provide appraisals for all purposes including IRS accepted tax donation appraisals, estate tax and probate, insurance, fair market, damage/loss, divorce and liquidation. Our appraisals are fully researched, comprehensive and accurate and conform to the USPAP (Uniform Standards of Professional Appraisal Practice). As there is no national license for personal property appraisers, USPAP compliancy is an important credential, and one that the IRS uses to measure appraisals as acceptable for tax purposes. Our appraisals provide comprehensive information about your valuable artwork or collections and our reports are expertly researched, photographed and contain full descriptions of the items included. A preliminary walk-through can be arranged in order to determine pricing and the scope of the appraisal at no charge.
Notable Sales