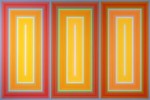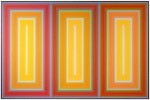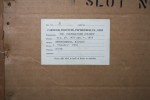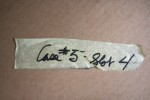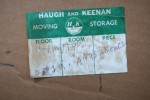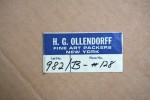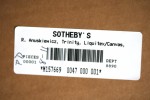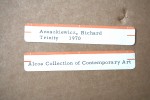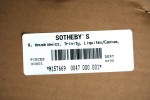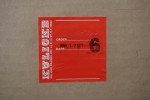 Artist: Richard Anuszkiewicz (American, 1930–2020)
Medium: Liquitex on canvas
Signature: Signed and dated verso
Dimensions:
48 in. h. x 72 in. w., canvas
49 in. h. x 73 in. w., as framed
Description:
In 1970 Richard Anuszkiewicz began to move away from the square format which had dominated his work for a decade prior, noting that the human eye seemed to respond differently to color interactions within vertical compositions. Anuszkiewicz began to produce upright, rectangular works in which thin bands of alternating color seemed to emanate from a central source. He called these works Portals.

Anuszkiewicz's Trinity (1970) functions as a triptych consisting of three different Portals. Each piece of the whole seems to draw the eye inward, where a thin slice of iridescent yellow is repeated as the innermost point of each Portal. Despite using very similar palettes, Anuszkiewicz emphasizes subtle variations in color by forcing the three Portals to coexist on the same canvas, bound together by a thin border of bright blue.