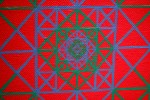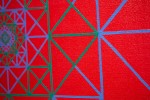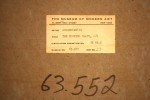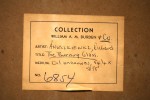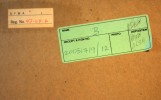 Artist: Richard Anuszkiewicz (American, 1930–2020)
Medium: Oil on canvas
Signature: Signed verso
Dimensions:
54 in. h. x 50 in. w., canvas
55 in. h. x 51 in. w., as framed
Description:

Richard Anuszkiewicz made his New York debut in 1960 with a solo show held at The Contemporaries Gallery, presenting tightly controlled abstractions with dizzying, pulsating color. These paintings were early examples of Op Art, a term which would not be coined by Time Magazine for another four years. Reviews of Anuszkiewicz's work were mixed, and many critics seemed perplexed by this shocking departure from the Abstract Expressionist painting that had dominated the New York art scene since the 1940s. Anuszkiewicz's hard edged, geometric abstractions did not result from spontaneous action, nor did they seem to express anything about the artist's subjective experience.

On the contrary, Anuszkiewicz sought objectivity in his paintings, which required careful planning—according to Anuskiewicz, this was the most creative part of his process—and precise execution. After earning a BFA from the Cleveland Institute of Art in 1953, Anusckiewicz enrolled as a graduate student at Yale, where he studied under the Bauhaus colorist Josef Albers. Albers' work on the interaction of color was hugely influential for Anuszkiewicz, whose work was also informed by advancements within the field of psychology. Anuskiewicz was particularly influenced by James J. Gibson and Rudolf Arnheim, psychologists whose work involved the study of human perception.

For the first two weeks of the exhibition there were zero sales. Then one day Alfred F. Barr Jr. walked into the gallery, days before the exhibition's closing date, and purchased Fluorescent Compliment for MOMA. The sale effectively jump-started Anuszkiewicz's career. Three years later, a number of Anuszkiewicz's paintings were featured in MOMA's exhibition Americans 1963. Among these paintings was The Burning Glass, 1961, which was purchased by Mr. William Burden, then president of MOMA, for his personal collection.

Provenance:
The Contemporaries, New York; Mr. William A. M. Burden (then president of MoMA) acquired the painting directly from MoMa's exhibition Americans 1963. The Burning Glass remained in Mr. Burden's personal collection until it was sent to auction at Sotheby's on September 29, 1993, where it was acquired by an Ohio collector.
EXHIBITION HISTORY:
New York, NY, The Museum of Modern Art; Ottowa, National Gallery of Canada; Artists Guild of St. Louis; Toledo Museum of Art; Sarasota, Ringling Museum of Art; Colorado Springs Fine Arts Center; San Francisco Museum of Art; Seattle Art Museum; Detroit Institute of Arts; New York, Harvard Club, Americans, 1963-1965, p .106, illustrated p. 10; Galleria Sagittaria, Centro Iniziative Culturali Pordenone, Pordenone, Italy, Richard Anuszkiewicz — Opere 1961 - 1987, April - May 1988
Type of Work: Paintings