Cleveland-based artist Kristen Newell's sculptures harness the scent of freshly burnt sage: mild but potent, transformative, warm and redemptive. The figures, animals, and vessels she sculpts all seem to carry the sound of water: rain, tears, the silence of shallow vernal pools, a rushing river, the crash and hush of an oncoming or receding tide. Adamantly whole and conspicuously vulnerable at once, this body of work seems to breathe a collective sigh of relief. The pandemic has passed, but what did it cost?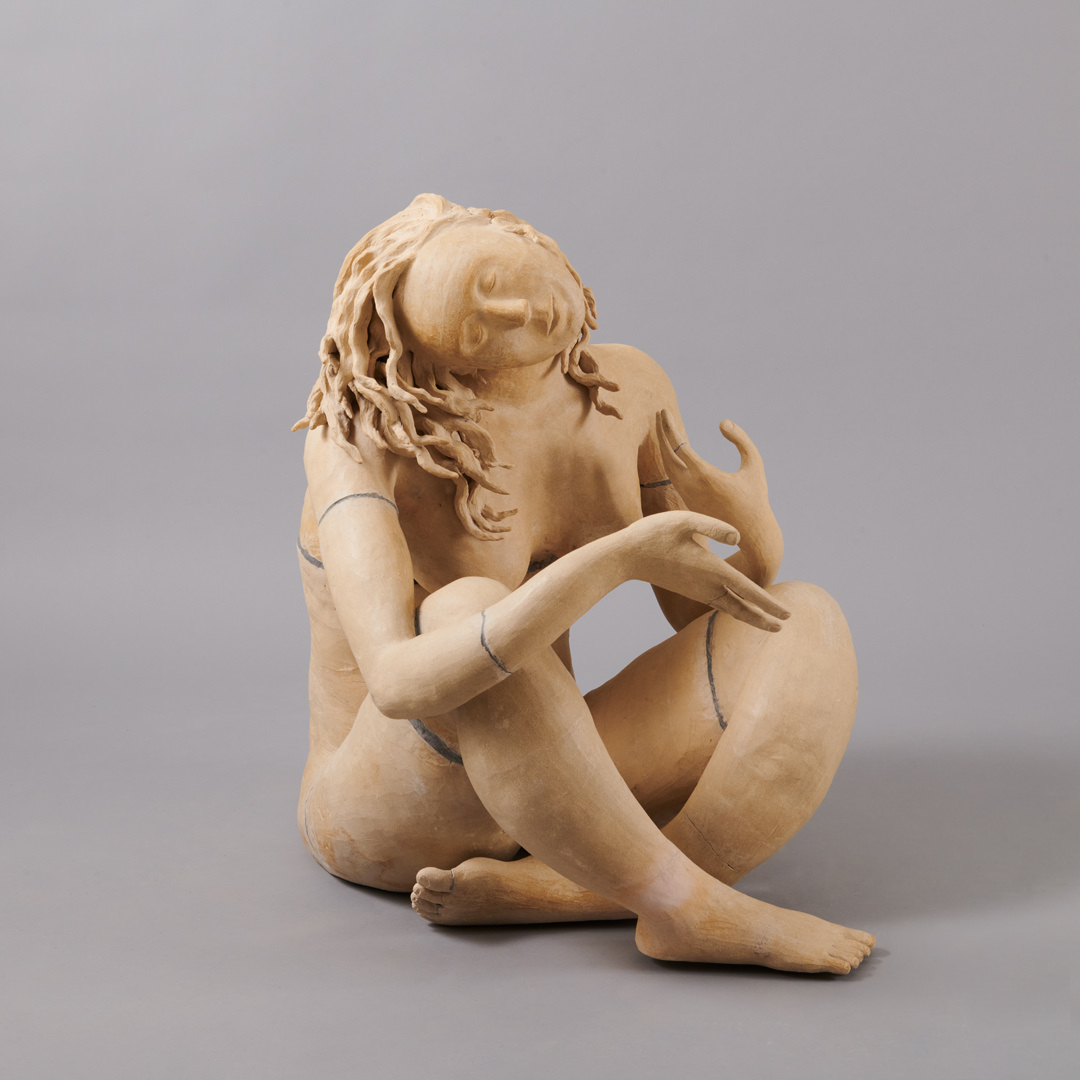 On view through June 17th at WOLFS, Kristen Newell's current exhibition, Unfolding, presents fascinating ceramic objects and a full color catalog in both print and digital form. Tender and forlorn, fierce but vaguely humorous and at turns lighthearted, the effigies in this exhibition include a seven-faced lion, a lamb, an alpaca, numerous busts with distinct, delicate hands and sometimes abstracted heads; limbs and the extension or torsion of the human body feels paramount throughout. There are dogs, cats, a bee and a bunny, trees, and a plentiful showing of goddesses, feminine spirits, or mythic maidens who, entangled in branches or upheld by them, appear locked in stone, either doomed or protected by an eternal moment of pause—or permanent physical suspension in time and space. Persephone, the Greek goddess of spring, agriculture, and vegetation, appears multiple times. And at certain moments, one's own image—mirrored—stares right back. In Newell's work, feminism feels contemporary and ancient at once; Unfolding smacks of slow presence, of continuity, of continuing. In these two galleries at WOLFS, the ceramic medium's most persuasive poeticism seems to surface: this material, once moving freely in the hands of its maker, acquires new life and its final form only by going through the fire.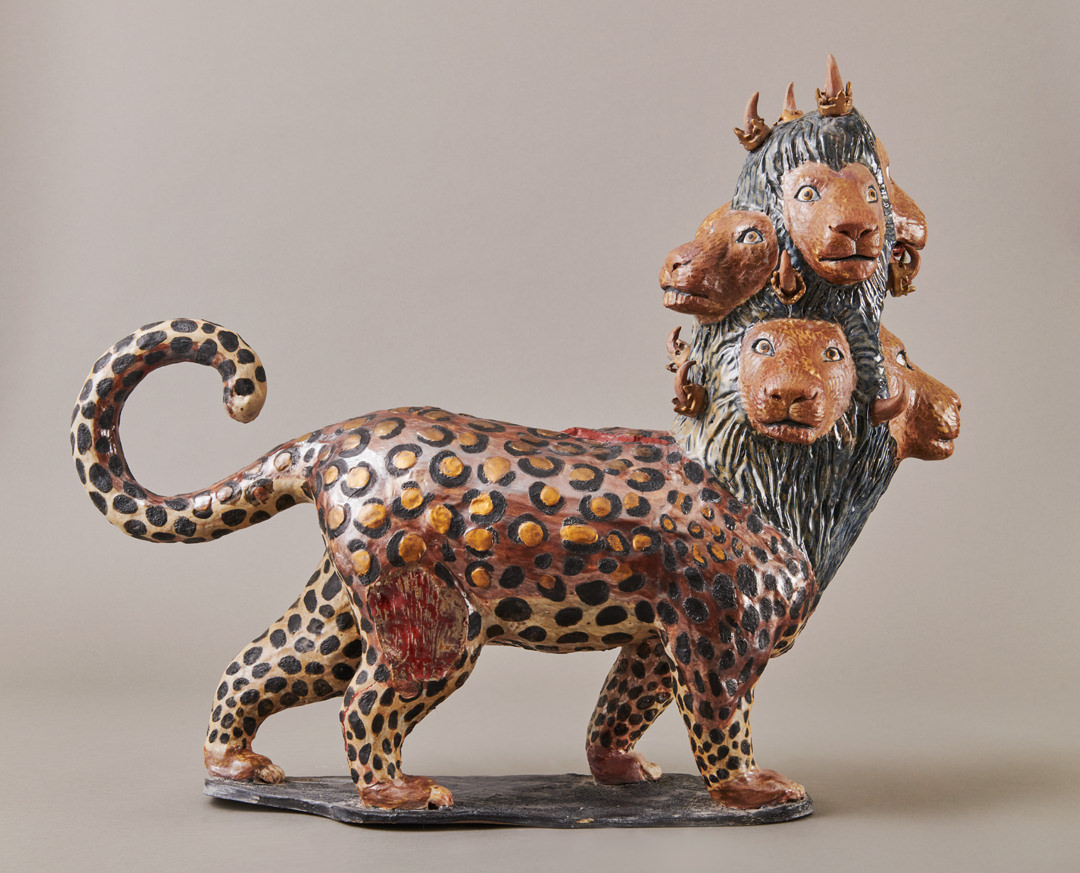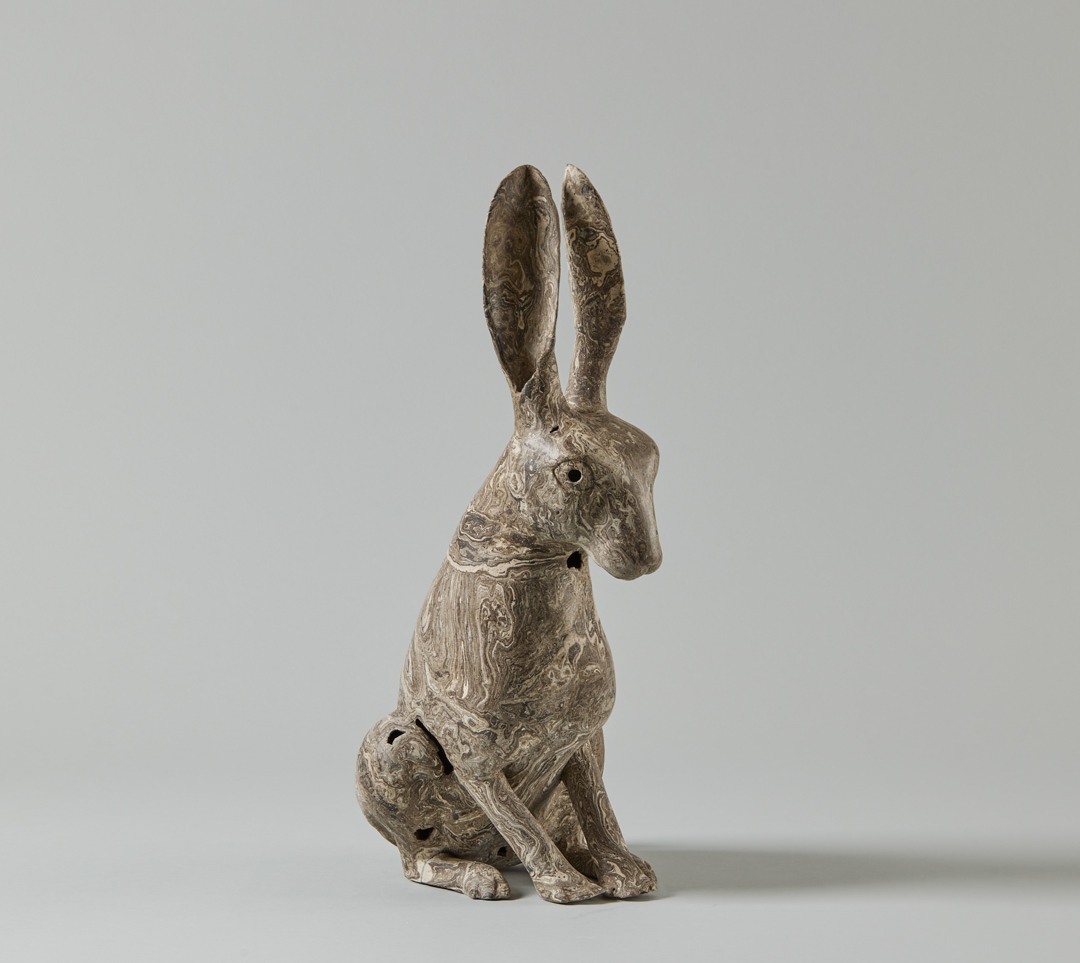 Transformation, as it turns out, is elemental to Newell's work and could be taken as the thesis of this exhibition. Representing work from the past seven or eight years (2015 – 2023), this body of work defies easy classification; it is neither completely abstract nor dedicatedly realist. Such works as Enigma (2022) are energetically and visually just such—mysterious, puzzling, paradoxical. Elsewhere, the spontaneity and free associations of surrealism—a tendency that underpins much of the exhibition's overall mood—are tempered by the show's earthiness, the utility of some of the vessels (as extravagant planters, for example), and through thoughtful narratives, with roots in real-world experiences.[1]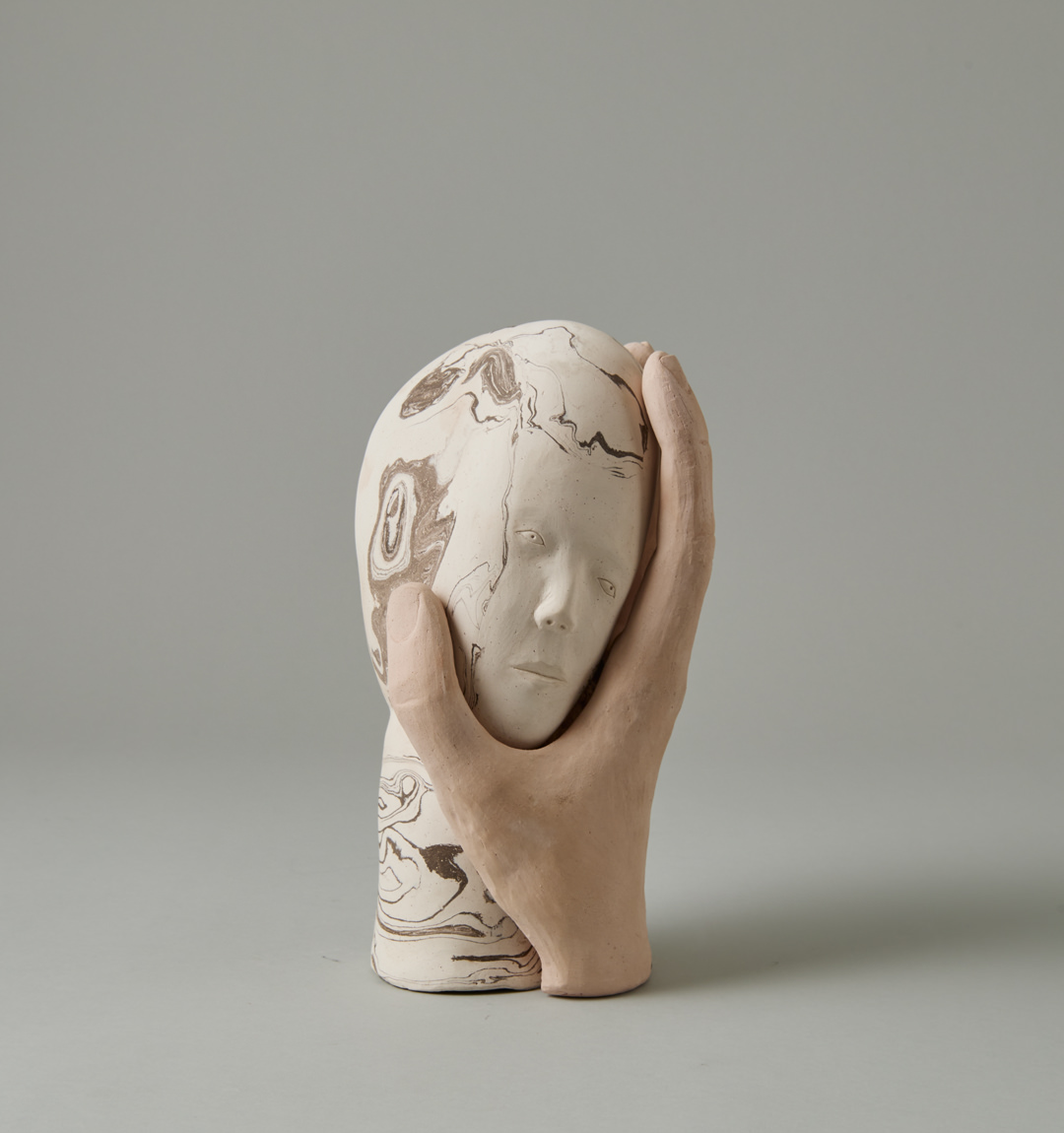 At first, such artists as Kiki Smith, Frida Kahlo, and Amedeo Modigliani come to mind as touchstones for Newell's work but such references feel fleeting. For if transformation requires movement from one state into another, then these works embody such constant shifts, oscillating as they do between a sweet, intoxicating sort of innocence and a deeply worn wisdom or prudent knowingness. Here, we're somewhere between a blank slate and the riches of a successful excavation.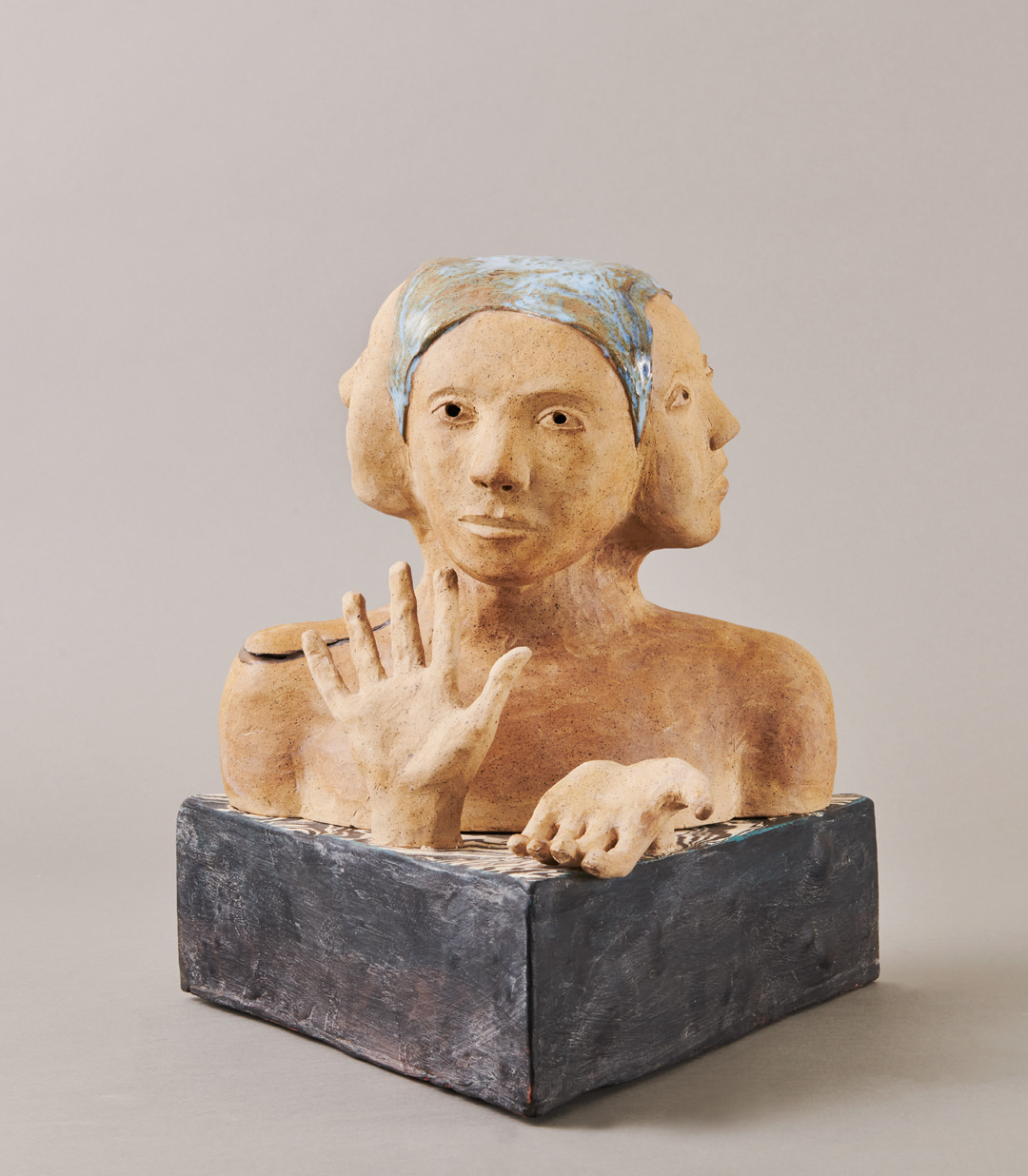 As critic and curator Eleanor Heartney recently observed, the so-called "goddess art" movement enjoys a fresh resurgence during this post-pandemic time, both globally and among artists showing at New York City's finest institutions.[2] Once outmoded and rather widely disparaged, this nascent revival of "goddess art" (by Wangechi Mutu or Chitra Ganesh, for example, among others) appears to restore genuine investment in imagery first introduced to the contemporary art world during the 1960s by such canonical artists as Judy Chicago, Betye Saar, Carolee Schneemann, Ana Mendieta, and Mary Beth Edelson.[3] Although Newell's work does not fit neatly into any one category, she seems to have her finger on the pulse. Her primary concerns loosely intersect with several of the goddess art movement's deepest concerns: connection to the Earth and reverence for our natural environment, appreciation for female self-governance, and a magnetic fluidity or internal synergy difficult to pin down.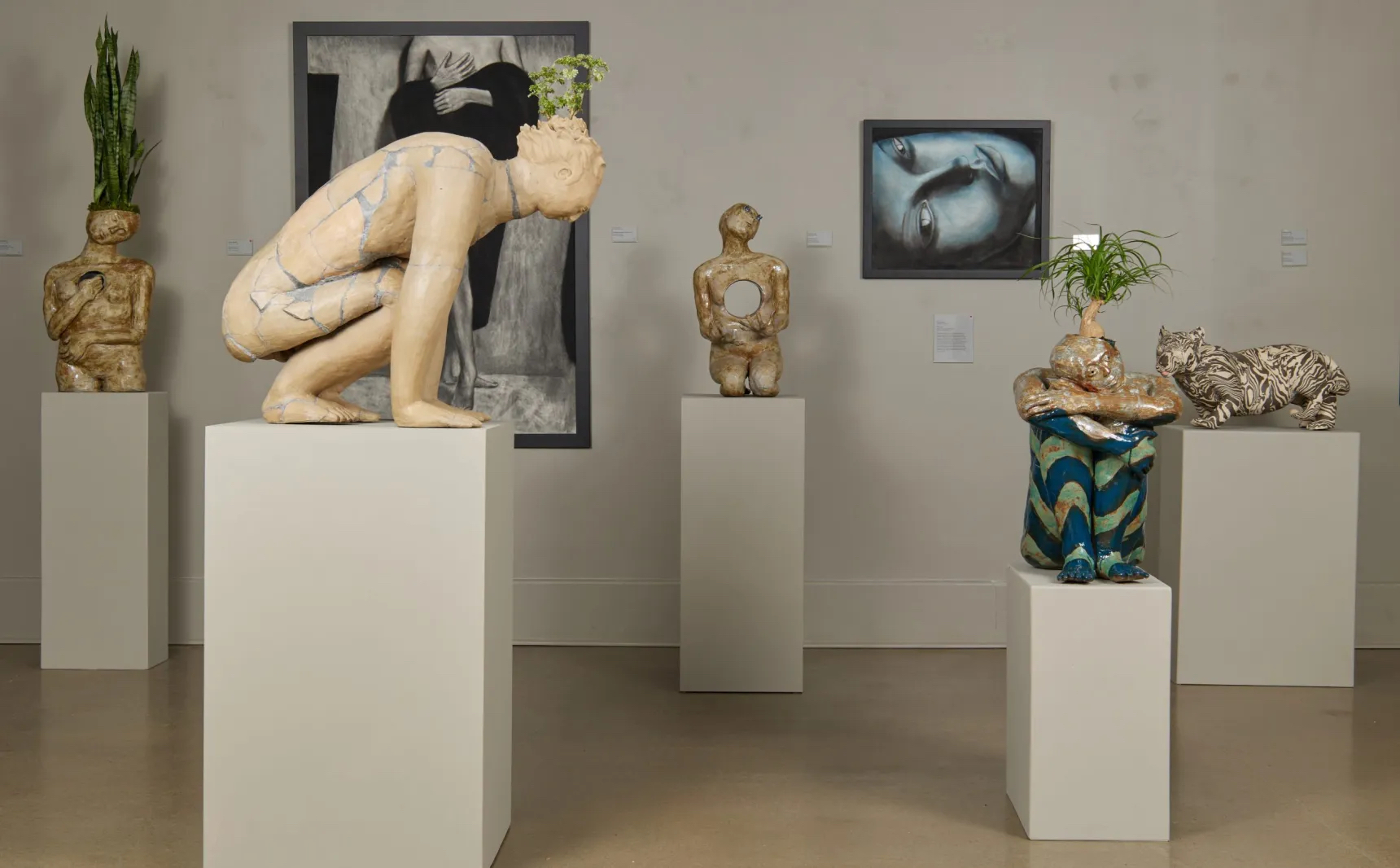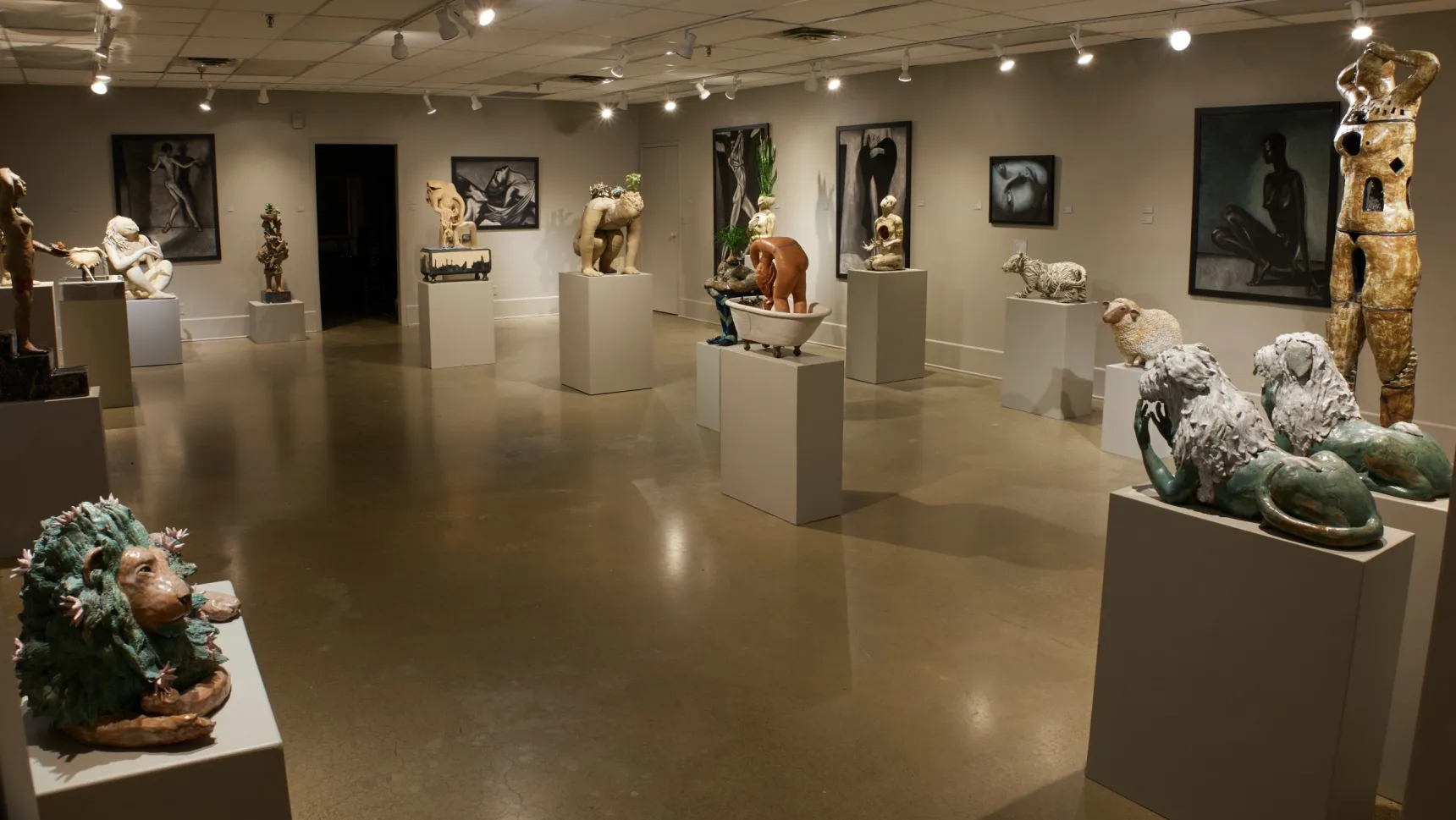 Cozy, dense, and arguably overpopulated, the installation of Unfolding at WOLFS might feel slightly crowded for those who tend more toward minimalist displays. Originally located on Larchmere during the 1980s, downtown during the 1990s, then back on Larchmere by 2010 after nearly a decade without a dedicated brick and mortar space, WOLFS moved to Mercantile Road in Beachwood in March of 2020. Self-described as a large, rambling gallery, WOLFS embodies the opposite of the unemotional white cube. The space is cavernous and intimate and founding owner Michael Wolf's dogs—Rocco and Petie—appear to be a regular fixture in the space; they even appear in Kristen's exhibition, gesturing with human hands.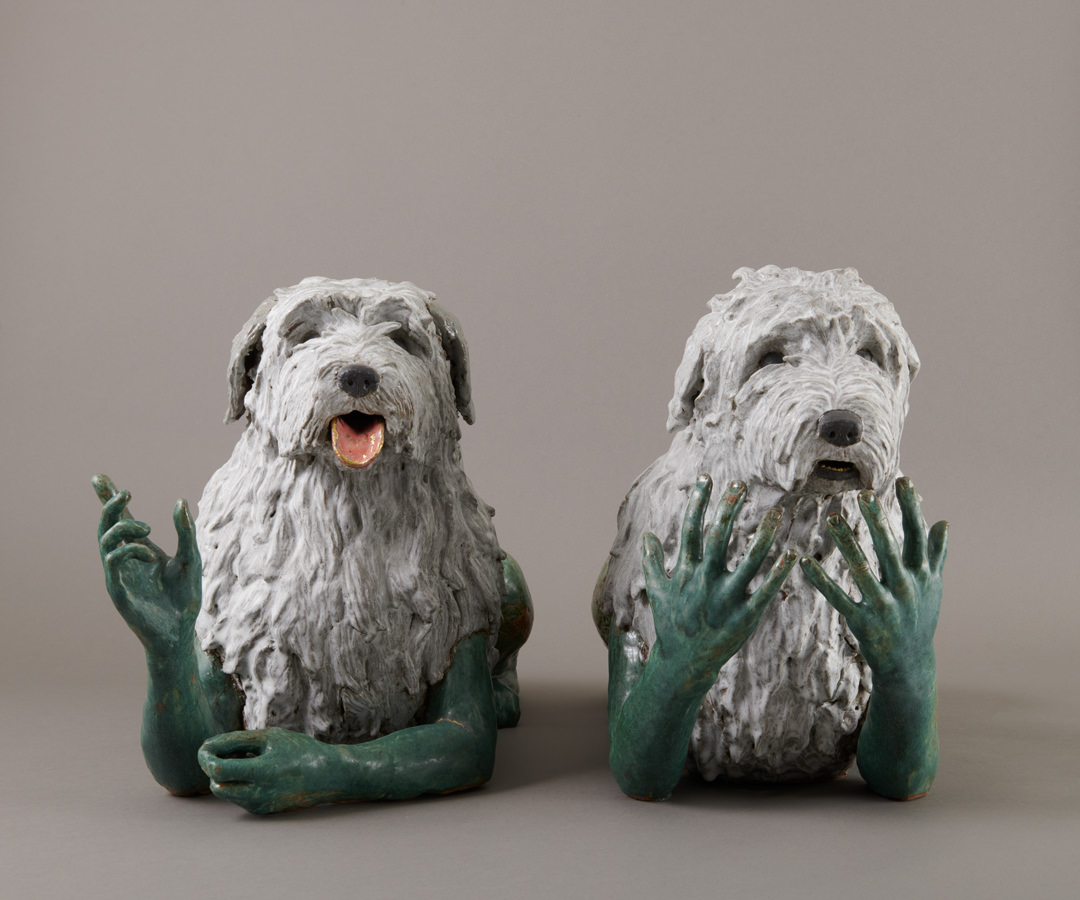 Soft spoken with an occasional mischievous glint in her eyes, Kristen was born in Ipswich, MA, on the Atlantic north of Boston. She moved to Cleveland in 2012 after earning her B.A. from the University of Vermont and spending one year at the Cleveland Institute of Art. Working at WOLFS as a photographer and framer since 2022, Kristen is the very first younger, living artist featured by WOLFS in a solo exhibition. This in part, makes the inclusion of drawings by Cleveland-born American artist Ken Nevadomi (b. 1939) a curious curatorial strategy. Nevadomi, a Cleveland painter and longtime Professor of Painting (now Emeritus) at Cleveland State University, creates numinous, brooding, and powerfully expressionistic canvases, and drawings that portend the sense of someone observing bodies from a distance, or from within one's own mind's eye. Recently, Kristen has been photographing and framing Nevadomi's work at WOLFS, and has become deeply familiar with it. As she explains, the idea to do so was hers, yet the intention of literally framing her exhibition with Nevadomi's lithe nudes and close-ups of female faces at certain moments feels at odds with the autonomy of her female figures. Perhaps that's the point, though, and various moments of conversation between Nevadomi's and Newell's works are deeply successful, others perhaps less so. All the same, to display work by two living artists appears to be a new step for WOLFS, and certainly an enticing one.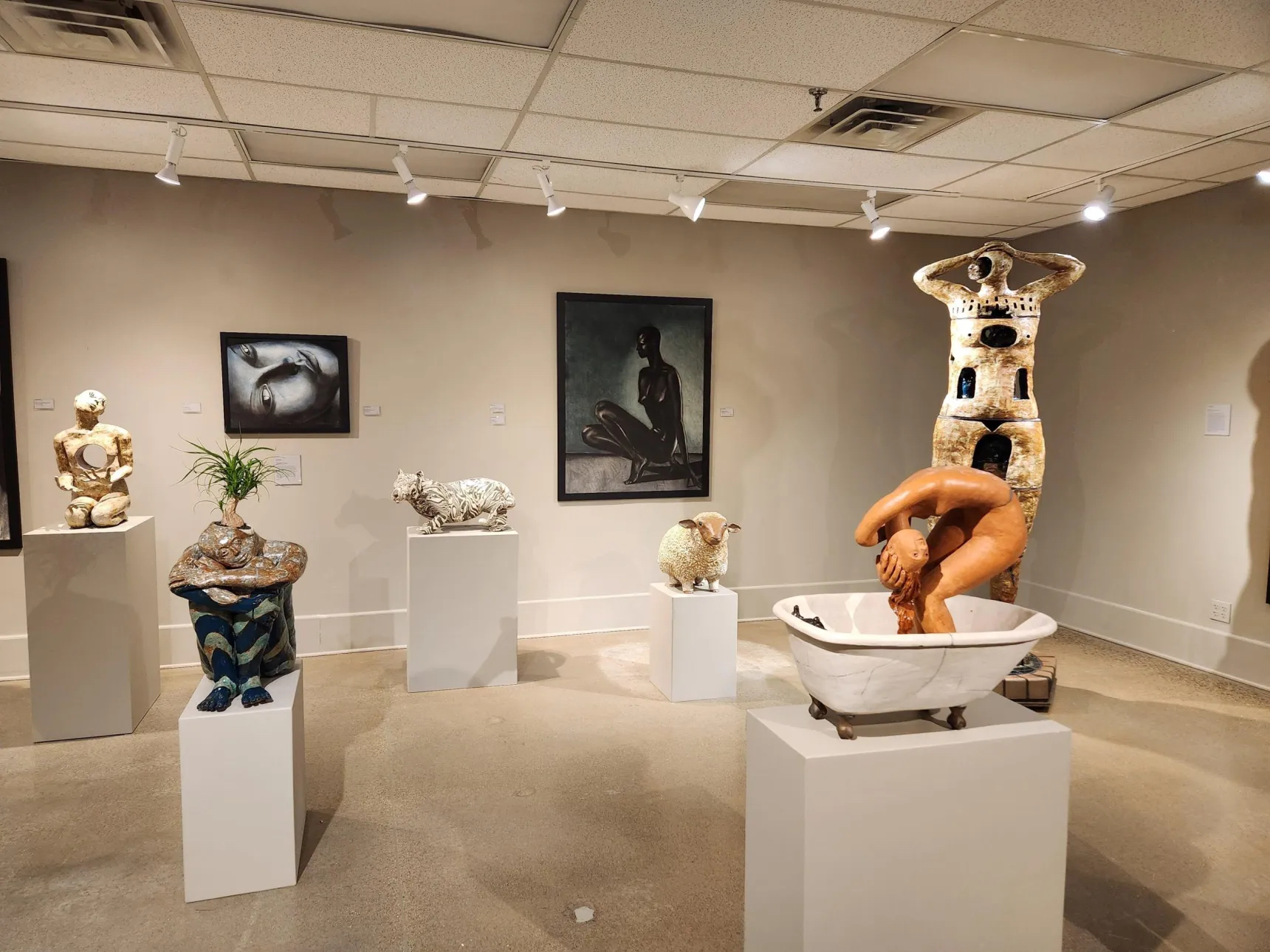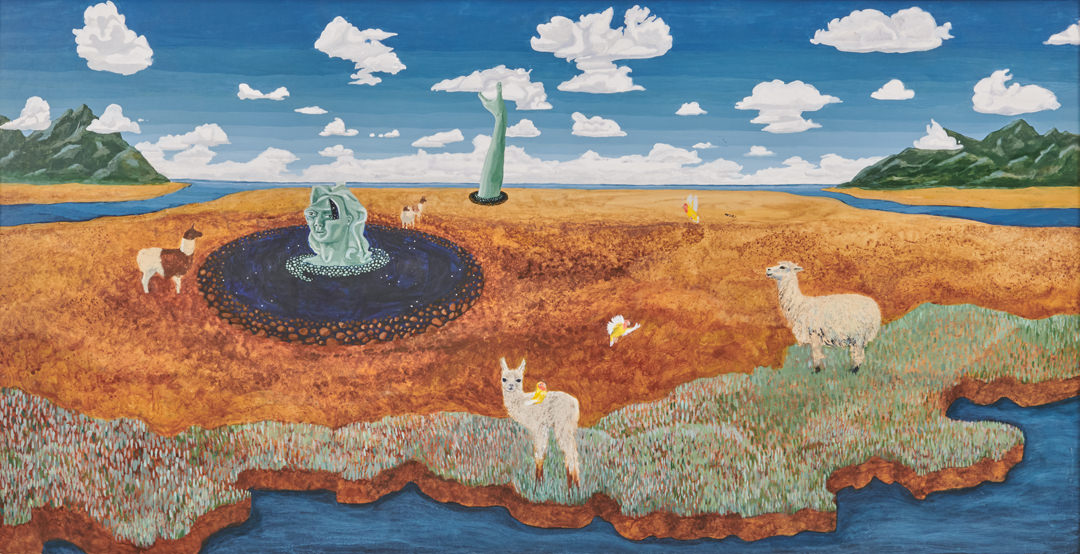 Although only one canvas, Sanctuary (2021), made during the midst of the COVID-19 pandemic, is included in the exhibition, another sculpture reaffirms Newell's prowess as a painter. In Ken's Girlfriend's Neck (2023), a nude female bust arches her neck backwards into an impossible position while broadcasting a scene from the 1974 film Chinatown on a TV screen covering her right breast, and a panorama of the recent devastation in East Palestine, OH, on a TV screen covering her left. The figure's right arm reaches up as if pinching or adjusting the volume on the TV; the arch of her shoulders announces surrender.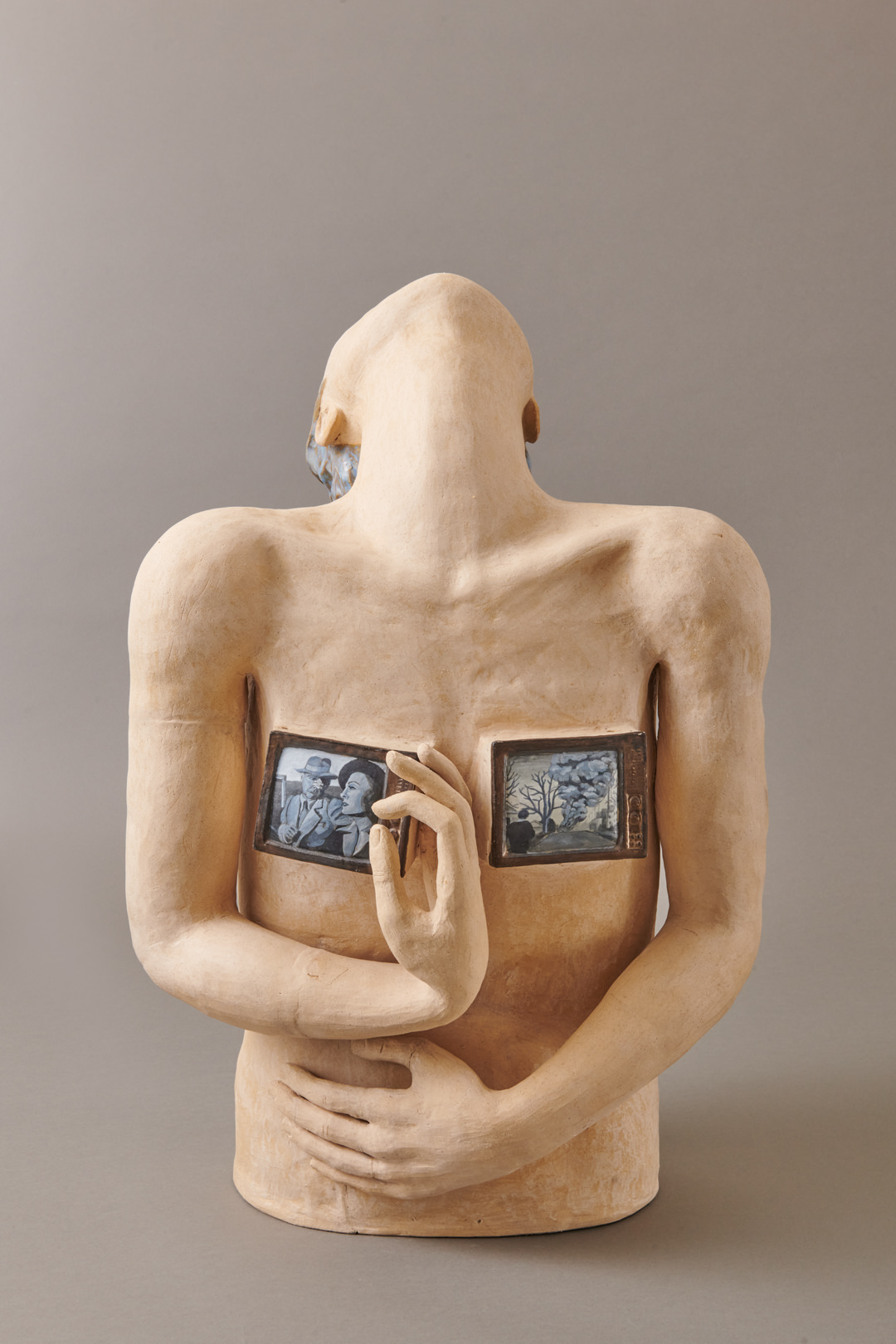 While this work, among others, feels flawless in its meticulousness, other works throughout the exhibition are reconstructed from the ashes, so to speak, literally sewn and seamed together, their cracks and splits on proud display, like scars or laugh lines. Recalling many years of sharing studios with potters (previously working at BRICK, Newell's studio is now in the Hildebrandt building), she confesses how the functionality of ceramics often gets in the way. "You never want a crack and you never want a break. Then it's just trash at that point," she says, continuing that, "I don't feel that way. I like pushing against that and I emphasize the cracks." It is exactly this that Kristen's work offers so modestly but unapologetically—a reminder of the world's inherently hybrid nature, its strength and fragility, and the instinct to patch what breaks in the process of making.
Indra K. Lācis, PhD, is a curator, writer, and art historian currently based in the Midwest.
[1] Henry Adams' essay covers solid ground in this respect and includes rather thorough accounts by the artist about the meaning and making of such works as Husk (2020), Bather with Flowers (2023) and Ken's Girlfriend's Neck (2023). See Henry Adams, "Kristen Newell: Sculptor of Dreams" (Beachwood, OH: WOLFS, 2023): 5 – 10.
[2] Eleanor Heartney, "The Once-Reviled Goddess Movement Gets a Second Chance." Art in America, May 18, 2023. Accessed May 24, 2023.
[3] For more on this, and an abbreviated but thorough history of the Goddess movement in art and archeology, see Heartney's article.