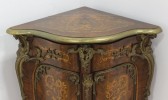 Artist: 19th Century French School
Medium: wood, bronze
Dimensions:
36.75 in. h x 33 in. w x 22 in. d.
Description:
The top inlaid with a floral scroll design with a conforming bronze band, over a pair of hinged shaped doors inlaid with long tailed birds and urns in a floral and foliate scroll cartouche, all fitted with foliate bronze scroll mounts and raised on splayed cabriole legs fitted with bronze sabots
Condition:
Mounts have darkened due to oxidation over time.
Veneer chip to top at back corner.
Horizontal shrinkage crack across top.
Marquetry is intact.