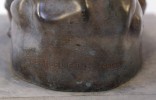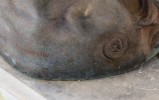 Artist: 19th Century French School
Medium: bronze
Signature: signed F.Barbidienne Fondeur with A.Collas Reduction Mecanique seal
Dimensions:
47.5 is total height including base
43 in. total height of bronze itself
Description:
After Giovanni Bologna (Flemish 1529-1608) Depicting the Roman god Mercury, messenger of the gods (Hermes in Greek mythology) flying through the air raised on a puff of air from the mouth of a cherub, sometimes called a zephyr, aided by his winged feet and helmet, carrying the caduceus, a symbol of peace, his finger pointing to the home of the gods, Mount Olympus. Raised on a five part stone and bronze base.
With foundry mark for F.Barbidienne
Condition:
base slightly damaged