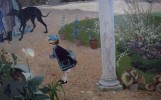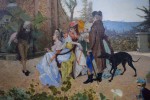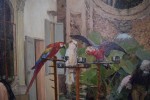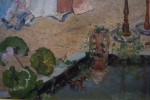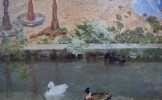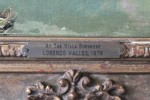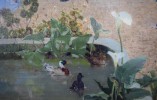 Artist: Lorenzo Valles (Spanish, 1830–1910)
Medium: oil on canvas
Signature: signed and dated 1876 lower right
Dimensions:
27 in. h. x 41 in. w., canvas
36 in. h. x 50 in. w., as framed
Description:
This exotic 19thc. scene is set in Rome in the private gardens of the Villa Borghese, the famous public park, residence and museum which was the creation of Cardinal Scipione Borghese in the 17thc. Created as an idealized Renaissance version of an ancient Roman villa, it contained museums for the Borghese collection of ancient Roman sculpture and old master paintings, residences and public and private gardens. Much of the ancient Roman sculpture was sold to Napoleon under duress and transported to Paris in a long and arduous horse and cart journey over the Alps, as Maritime routes to France were blocked due to war.
The painting "At The Villa Borghese" depicts a scene in the Aviary, located in the northern section of the park, one of three private or 'secret' gardens. The aviary was built to house a prized collection of rare and exotic birds.
Type of Work: Paintings