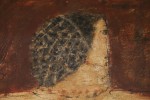 Artist: Joseph Glasco (American, 1925–1996)
Medium: Oil on paper
Signature: Signed and dated lower left
Dimensions:
60 in. h. x 40 in. w., panel
62 in. h. x 42 in. w., as framed
Description:
Framed
Catalog #131
Exhibited: Viviano, 1956, no. 3; Princeton, 1961, no. 73; Houston, CAM, 1986
As Raeburn states, "Ancient and modern myth – Salome, Lilith, Leda, and Goyen's Marvello – already had provided him [Glasco] with inspiration, and he continued to evoke mythical characters in the subjects and titles of his art." MR, p. 199. Dore Ashton of the New York Times reviewed the January 1956 show at Catherine Viviano, including this description of Leda, "One of the outstanding canvasses in the show is entitled 'Leda.' Executed in tones of brown and pale orange highlights, this painting shows a huge ambiguous female figure, her back to the spectator. Beyond her a giant fringe of feathers indicates the mythical swan. The whole effect is startling." NYT Feb. 3 1956. In the right corner of the work is a small mirror and comb. These two elements are often incorporated into Glasco's paintings, with the comb seeming to be an attribute of a woman while the mirror is often associated with his depictions of Narcissus.
Provenance:
The Late Stanley J. Seeger Jr. Collection
Type of Work: Paintings