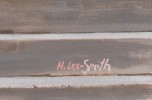 Artist: Hughie Lee-Smith (American, 1915–1999)
Medium: Oil on canvas
Signature: Signed lower right
Dimensions:
26 in. h. x 32 in. w., canvas
27 in. h. x 33 in. w., as framed
Description:
Throughout the 1980s, Lee-Smith's works often focused on African Americans and whites attempting to relate to each other. In Counterpoise II (1989), a puzzled, angry young African American woman is left behind while the young white woman appears to matriculate blending into the background.
Type of Work: Paintings