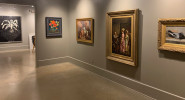 Artist: De Scott (David) Evans (American, 1847–1898)
Medium: Oil on canvas
Signature: Signed and dated lower right
Dimensions: 36in. h x 24in. w
Description:
Born in Wayne County, Indiana, De Scott Evans (American, 1847–1898) studied at Miami University in Oxford, Ohio and in the early to mid-1870s, he taught art at various midwestern colleges. He moved to Cleveland in 1874 and in 1877 he spent a year in Paris, studying under famed academic artist Adolphe William Bouguereau. He returned to the United States the next year and became co-director of the Cleveland Academy of Fine Arts in Ohio. Upon his return from France, Evans became known for his portraits of stylish women, though his posthumous reputation is largely based on trompe l'oeil still lifes.
Serving as a combination of Evans' two favored subject matters, Taxidermist shows "elegantly attired young ladies of the upwardly mobile middle class into the decrepit workshop of a man who stuffs animals for a living. With her late canary in hand, one lady ponders the possibilities for that departed loved one's permanent exhibition. Perhaps the small bell jar that the taxidermist holds aloft will not do and the larger alternative by his right arm would make a more fitting final resting place… Evans coded his transaction in terms of light feminine sentiment rather than weighty masculine industry. The taxidermist aims to please, and when he succeeds in that goal, the women will leave without needing to return to his shop or to question the inequality of the social relations there enacted."
Dated 1881, Taxidermist was likely a scene painted from a shop in Cleveland, whilst incorporating techniques from his tutelage under Bouguereau in Paris. The painting was sent to New York to be shown at the National Academy of Design in 1881.
This painting is illustrated in William H. Robinson and David Steinberg's Transformations in Cleveland Art: 1796-1946 (Cleveland: Cleveland Museum of Art, 1996), fig. 30. Transformations was published to accompany the exhibit by the same name.
source: Robinson, William H, and David Steinberg. Transformations in Cleveland Art, 1796-1946: Community and Diversity in Early Modern America. Cleveland, Ohio: Cleveland Museum of Art, 1996.
Type of Work: Paintings