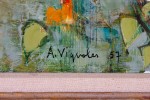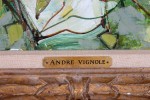 Artist: André Vignoles (French, 1920–2017)
Medium: Oil on canvas
Signature: Signed and dated lower left
Dimensions:
48 in. h. x 28 in. w., as framed
39 in. h. x 19 in. w., canvas
Description:
Impasto leaves, grapes, pears, and peppers spring forth from the canvas in this vibrant still-life by Vignoles. Varying virescent shades prevail throughout, yet are balanced with touches of azur and vermillion, accentuating the tower of perfectly ripened fruit.
Type of Work: Paintings