BEACHWOOD, Ohio — Winslow Homer drew inspiration from the wave-lashed coast of Maine. Claude Monet reveled in the ripples on his waterlily pond in Giverny. And Joseph O'Sickey found artistic nirvana in the dappled shade of his backyard in Twin Lakes.
Over a five-decade career, O'Sickey (1918-2013) became one of Northeast Ohio's most beloved artists in part because he found inspiration close to home.
Instead of the French Riviera, where painters such as Henri Matisse and Pierre Bonnard luxuriated in Mediterranean light and color, O'Sickey found a visual paradise off Route 43 just outside Kent, where he taught for many years at Kent State University.
In the house and barnlike studio where he lived and worked alongside his wife and muse, artist Algesa O'Sickey (1917-2006), O'Sickey turned out numerous colorful paintings of backyard setups of wicker chairs and flower-laden tables featuring views of his property, which backed onto a neighboring golf course.
For a generation of Northeast Ohio collectors from the 1960s through the 1990s, buying an O'Sickey was de rigueur as a statement of cultural aspiration, and an affordable alternative to bagging a Bonnard or a Matisse, to name two of O'Sickey's primary stylistic sources.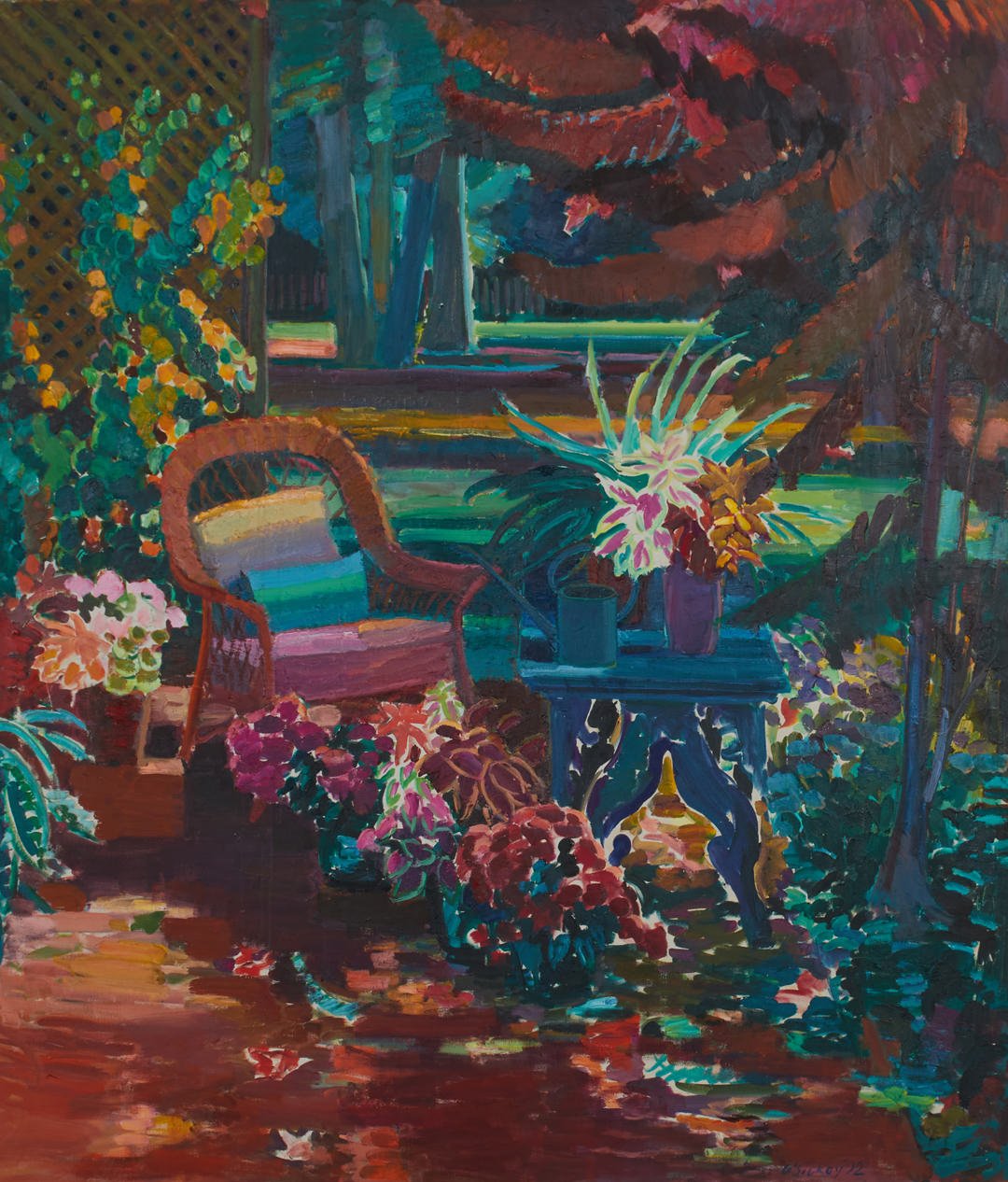 A sizable exhibition now on view at Wolfs Gallery at 23645 Mercantile Rd, Beachwood, through March offers a chance for a fresh look at O'Sickey's career. The show, one of the largest devoted to the artist in recent years, fills two rooms with several dozen paintings and works on paper hung on the walls, plus several bins full of matted watercolors and drawings.
The exhibition is occasioned by a bequest of artworks from the O'Sickey estate to the Cleveland Institute of Art, where O'Sickey earned his bachelor's degree in 1940. The gift allows CIA to sell the artworks to benefit a scholarship named for Joseph and Algesa O'Sickey.
Making history versus receiving it
The show reinforces O'Sickey's reputation as an artist who made good, competent, solidly enjoyable work, but who nevertheless failed to make much of a splash outside the region. That's true even though he was represented in New York by the prestigious Kennedy and Seligmann galleries.
The reason is that while some artists make history, others absorb history without advancing the conversation in ways that capture wide attention among critics, curators, and historians, generating books, museum exhibitions, and excitement among collectors.
That's how art history works. It isn't necessarily fair, and it's true that some important figures, such as the early 20th-century Swedish abstractionist, Hilma af Klint, have been overlooked during their lifetime. (The Solomon R. Guggenheim Museum in New York gave af Klint, as she is known, a major show in 2019, called "Paintings for the Future").
But unlike af Klint, who is said to have beaten other more famous artists to the punch in the first decade of the 20th century by making the first truly abstract paintings, O'Sickey pursued a backward-looking art.
During decades in which edgier Northeast Ohio artists tangled with Pop Art, Minimalism, and Op Art, O'Sickey developed a gentle, colorful, sweetly nostalgic style that leaned heavily on early modern 20th-century ideas derived from sources including Matisse and Bonnard.
Giving pleasure
O'Sickey's art embodied a gentle desire to give pleasure without making great demands of his audience and perhaps of himself. His art was and is easy to enjoy. The question raised by the Wolfs show, in which works from one decade often resemble those from another, is whether O'Sickey could have raised the ante on himself.
During the tumultuous 1960s and '70s, and the decades that followed, O'Sickey's main goal was to seek motifs through which he could express his love of rich, fruity colors and decorative patterns, such as tiger stripes, or clusters of flowers. He focused on his landscape-still-life paintings and other subjects, including images of horses and riders in the Ohio countryside, zoo animals, and circus scenes.
At its best, his work offers the pleasant escapism of a mental vacation. At other times, it looks oddly out of touch with his time, and ours.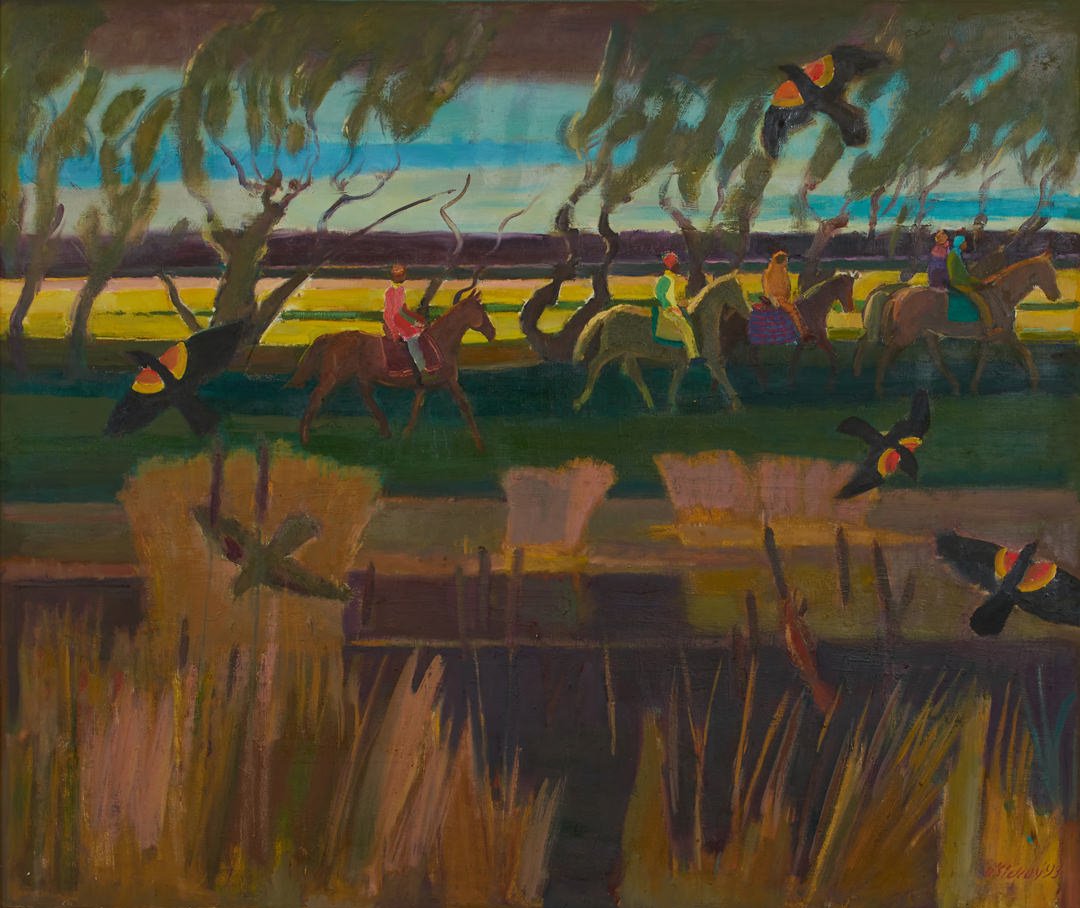 If that sounds harsh, it's good news for the artist's estate and for CIA that collectors with deep wallets still love his work, no matter what an art critic might say about it.
Labels with red dots in the show indicate that some of the biggest and most expensive paintings in the show have sold for sums reaching well into the mid-five figures. That's a level reached by a few Northeast Ohio artists in recent decades, and it indicates that O'Sickey's art still has a devoted audience.
Entry point
O'Sickey's art has also served as a jumping-off point for bigger things. The Shaker Heights collectors Joseph and Nancy Keithley started their ambitious collection of modern and contemporary art more than 20 years ago by purchasing paintings by O'Sickey, whom they also befriended.
The Keithleys then moved on to buy major works by Bonnard, Georges Braque, Joan Mitchell, and others. In 2020, they donated their collection, worth more than $100 million, to the Cleveland Museum of Art. Today -- Sunday, January 8 -- is the final day of the museum's big exhibition celebrating that gift, which includes works by O'Sickey.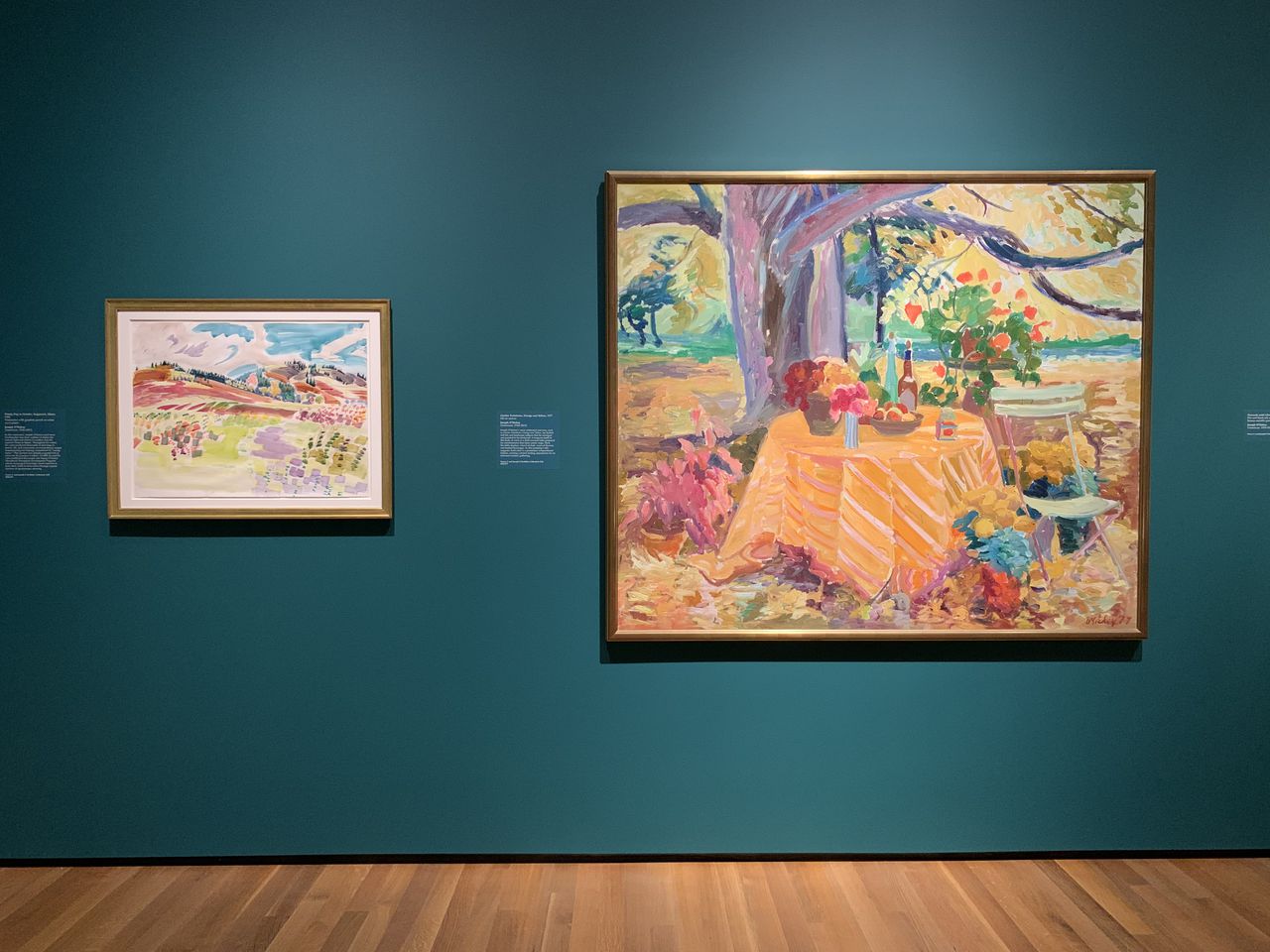 The museum show places O'Sickey in a context that enables a side-by-side comparison of his work with some of the sources that inspired him. And it also shows that however his work as a whole might be judged, a good O'Sickey can always please the eye, exert wall power, and display considerable pictorial intelligence.
Surprises
Along with the highly familiar and typical O'Sickey garden scenes, the Wolfs show includes some surprises.
One is a large vertical composition from the early 1960s that depicts a swimming beach in Maine with pine trees and puffy clouds rising beyond a crescent of purple sand that edges a cove painted in jarringly acid tones of yellow-green and turquoise.
Women in modish bathing suits wade in the knee-deep water with small children while older kids in the foreground play in the sand.
With its nods to contemporary life and fashion, its New England flavor, and its underlying Frenchness, the painting bears comparison to works of the time by New York-based artists such as Fairfield Porter and Alex Katz, who then painted similar subjects.
But while Katz and Porter went on to national fame by distilling their work through a rigorous process of stylistic refinement and a greater focus on essences, O'Sickey settled into a routine that, while certainly productive, lacked the same intellectual rigor.
Also notable in the show is another large vertical composition from the 1960s, a semi-abstract painting depicting peacocks at Cleveland's Brookside Zoo, later the Metroparks Zoo. O'Sickey evoked the exotic birds in jagged black shapes arrayed on a field of deep blue — an approach strongly derived from Matisse's 1950s collage cutouts.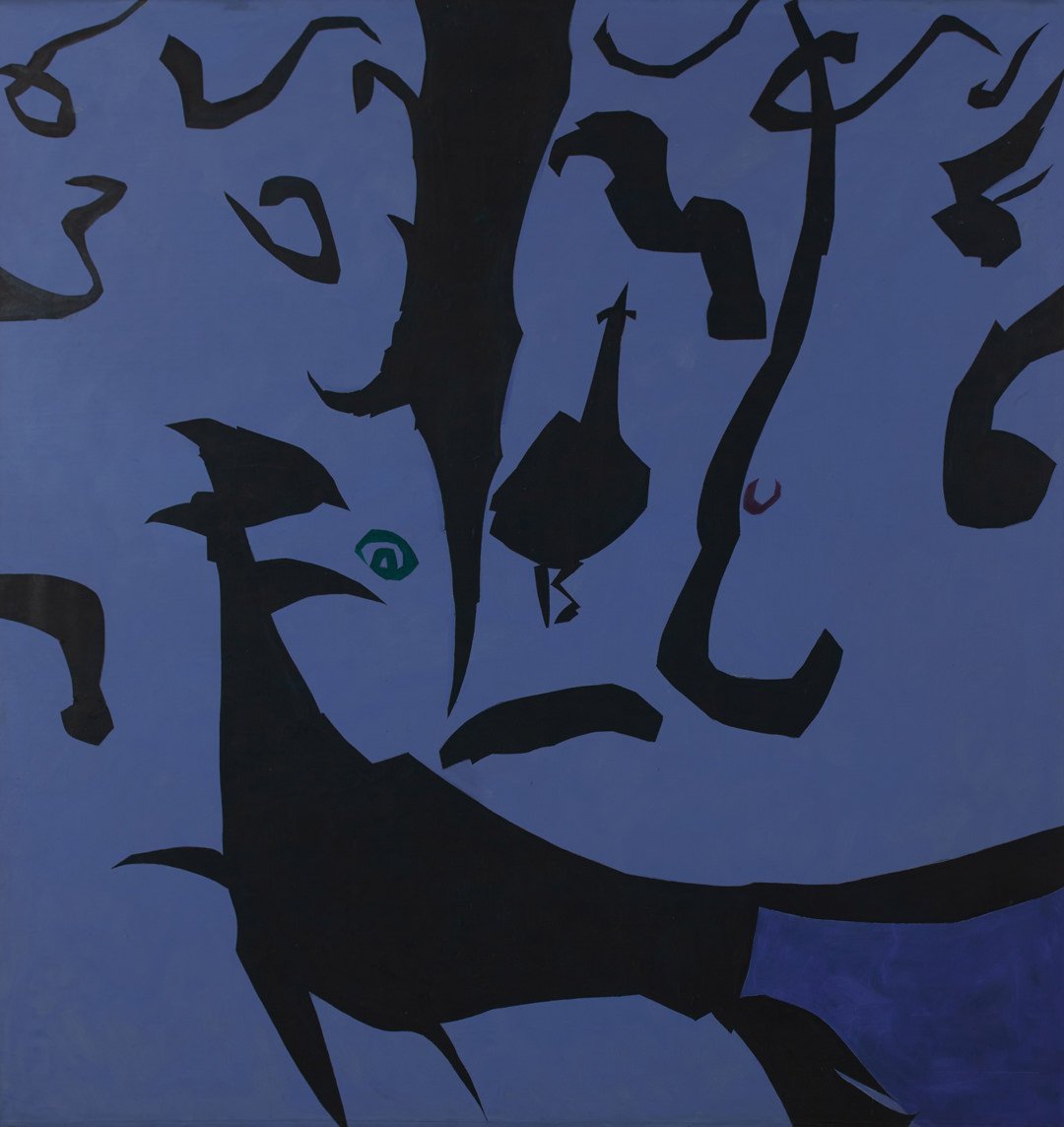 Proximate to greatness
The mystery of O'Sickey's art is that while he was proximate to greatness, he wasn't able to make the leap himself.
During the 1950s, he and Algesa befriended the young Roy Lichtenstein, who moved to Cleveland after completing his studies at Ohio State University under the legendary professor Hoyt Sherman.
The O'Sickeys introduced Lichtenstein to Isabel Wilson, an interior designer who worked at a gallery managed by Algesa, and who married Lichtenstein in 1949.
Ideastream recently explored that history in an excellent documentary, "Isabel and Roy,'' and a fascinating exhibition at the Columbus Museum of Art last year traced Lichtenstein's evolution in Ohio in the 1950s.
Back then, before he moved to New York and helped launch the Pop Art movement, Lichtenstein explored themes based on American history, medieval knights, mechanical devices, airplanes, and other motifs that would later reappear in his Pop paintings.
At the time, however, he filtered his subjects through a knowingly raw and primitive Cubism, characterized by childlike drawing, rough paint handling, and a somber palette of browns and grays.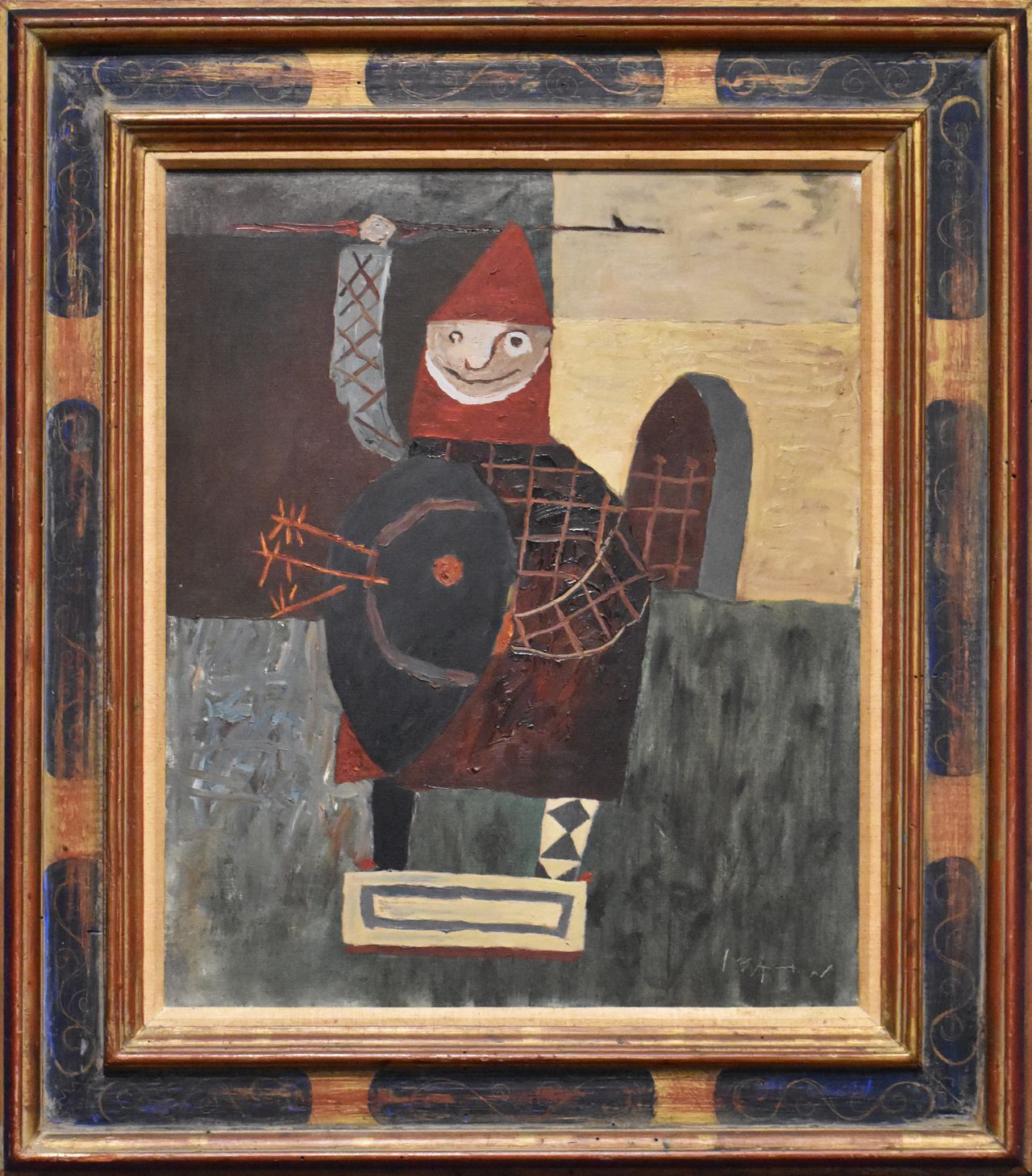 "The Knight (Self-Portrait),'' c. 1951, by Roy Lichtenstein, exemplifies the faux-naive approach the artist adopted in the early 1950s.Cleveland Museum of Art, Estate of Roy Lichtenstein.
Interestingly, as the show at Wolfs illustrates, O'Sickey gave Lichtenstein's proto-Pop style a whirl himself. In a 1950 painting in gouache on paper, entitled "The Sand Mine,'' he echoed Lichtenstein's interest in mechanical devices.
But he didn't appear to grasp what Lichtenstein was getting at, which included the rejection of settling into an artistic comfort zone.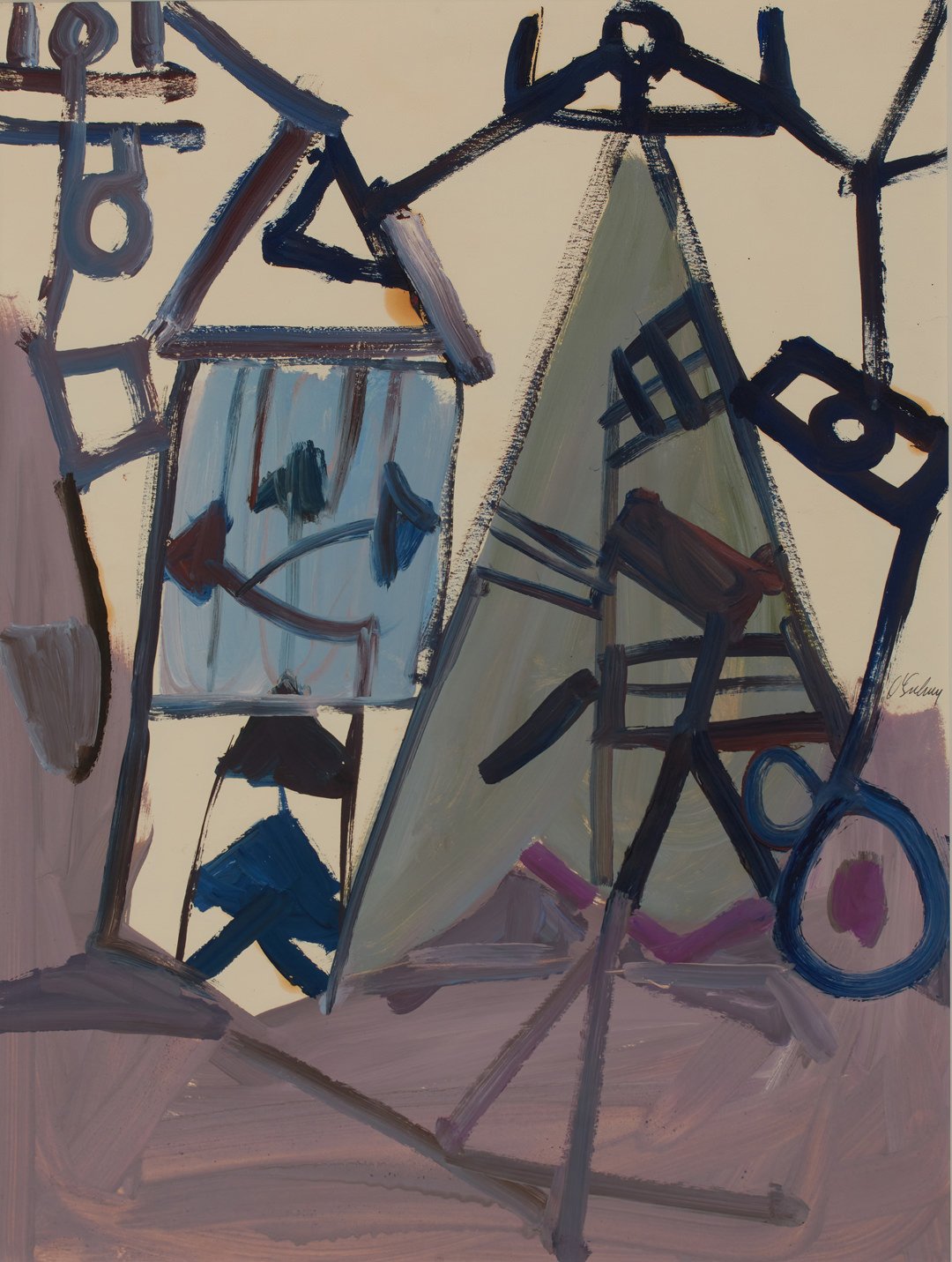 As O'Sickey said in an interview I conducted with him in 2012, he and Lichtenstein both felt a need to reject the orthodoxy of Abstract Expressionist painting, the dominant style of the 1950s.
After a day touring New York galleries together, they grew tired of seeing so many works by artists who were imitating the gestural brushwork of artists such as Franz Kline and Willem de Kooning, or the drips and splatters of Jackson Pollock. They wanted to do their own thing.
Lichtenstein eventually decided to mimic and mock contemporary comics, Disney cartoons, and advertisements, and to adopt mechanical techniques including the use of Ben-Day dots as a way to distance his paintings from his personal sense of touch. It was a radical and revolutionary choice.
O'Sickey went in a different and more traditional direction based on his daily practice of making observational drawings.
"My feeling was that as long as I did sketches in reaction to what I saw, I wasn't reacting against anybody else's work,'' he said. "I felt that as long as I went through my process of drawing, there was no way my drawings could be like anybody else's.''
In other words, O'Sickey zigged while Lichtenstein zagged — and made history.