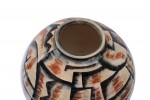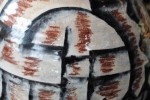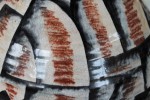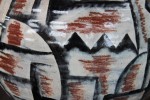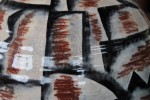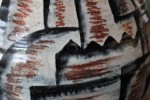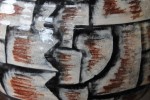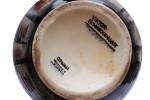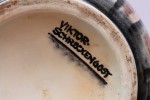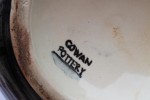 Artist: Viktor Schreckengost (American, 1906–2008)
Signature: signed Viktor Schreckengost and Cowan Pottery in Black, with impressed Cowan marks
Description:
Of bulbous ribbed form with small circular mouth and molded rim, the hand decorated design expertly integrated with the form of the vase, in black, brown and grayish blue glaze over a cream-colored crackle underglaze ground.
A unique work by Schreckengost created at Cowan Pottery, inspired by his friend Paul Travis's groundbreaking trip to Africa in 1928. Schreckengost created this vase with a technique he developed himself in which he " . . .worked in crayon, mixing melted wax with underglaze colors. He admits taking the crayons home each night and guarding them carefully at the pottery so that his work of this type would not be imitated."
Henry Adams, Viktor Schreckengost and 20th-Century Design, The Cleveland Museum of Art, Seattle, University of Washington Press, 2000, p.85.
Catalog Published on the occasion of the exhibition of the same title, 12 November 2000-4 February 2001.
Provenance:
Provenance: Gift of the artist to Paul B. Travis
By descent in the family