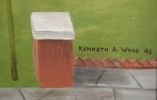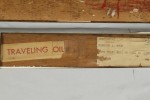 Medium: oil on canvas
Signature: signed and dated lower right
Dimensions: 27in. h x 42in. w
Description:
Exhibited: Cleveland Museum of Art, May Show, 1946, Honorable Mention
Cleveland Museum of Art, Traveling Exhibition of Oils by Cleveland Artists, 1947
Butler Institute of Art, Youngstown, Ohio, New Year Show, 1948
Born in Cleveland, Ohio in 1913, Kenneth Anderson Wood studied at the Cleveland School of Art. His early training included instruction by local artists Carl Gaertner (1898-1952) and Paul Travis (1891-1975). Following their influence, Wood began to create his own depiction's of the mills, furnaces, and freighters that shaped the Cleveland landscape of the industrial valley known as the Cleveland Flats. A great admirer of the painter Edward Hopper, Wood sought to capture a mood of starkness and isolation in many of his paintings. In 1936, Wood became the art director for the Bailey Meter Company, which was located in the working class Cleveland neighborhood of Collinwood. A number of the scenes he painted over the next twenty years documented the blue-collar world he observed from the windows of his third floor office. Wood began exhibiting as a professional in the late 1930's. His work was first accepted for the Cleveland Museum of Art's annual May Show in 1939. He was included in eighteen subsequent May Shows and won first prize in landscape painting for a work he presented in the 1944 annual Show. Over the years, Wood exhibited his work nationally in such prominent museums as the Worcester Art Museum (Massachusetts), the Detroit Institute of Arts, the Milwaukee Art Institute, the Albright Art Gallery (New York), and the Allyn Museum (Connecticut). Through the forties, fifties, and sixties, Wood continued to produce American scene paintings inspired by the industrial milieu of Cleveland. In the 1970's he began collaborating with his wife, Ruth, to design murals, mosaics, and leaded glass panels for architectural application. Kenneth Wood continued to work in his studio in the town of Chesterland, which lies east of Cleveland. His work is represented in the Cleveland Museum of Art; the Butler Institute of American Art and numerous private collections nationwide.