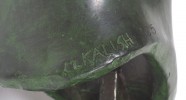 Artist: Max Kalish (American, 1891–1945)
Medium: Cast bronze, mounted to a marble base
Signature: Signed verso. Number 5 of 8. "05" stamped next to signature.
Dimensions:
12 in. h. x 4 in. w.
Description:
After-cast from the original plaster, produced in 2005.
David Dietz, won a Pulitzer Prize for reporting in 1937 and was a longtime science writer for the Scripps-Howard Newspapers. He and Dorothy Dietz were reputed to be great friends of Max Kalish, who made portraits for each in plaster. This piece was said to be cast from the plaster bust.
Type of Work: Sculpture