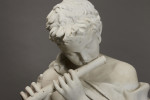 Medium: marble
Dimensions:
60 x 20 x 16.5 inches
Description:
In the style of Praxiteles.
After the Roman work of the 1st-2nd century CE.
This elegant marble sculpture derives from the famous antique model, which was first recorded in 1638 in the Villa Borghese in Rome. The antique was purchased by Napoleon and transported to the musée du Louvre by 1815, where it remains until this day (Satyre jouant de la flute, inv. no. MA 595).
Type of Work: Sculpture