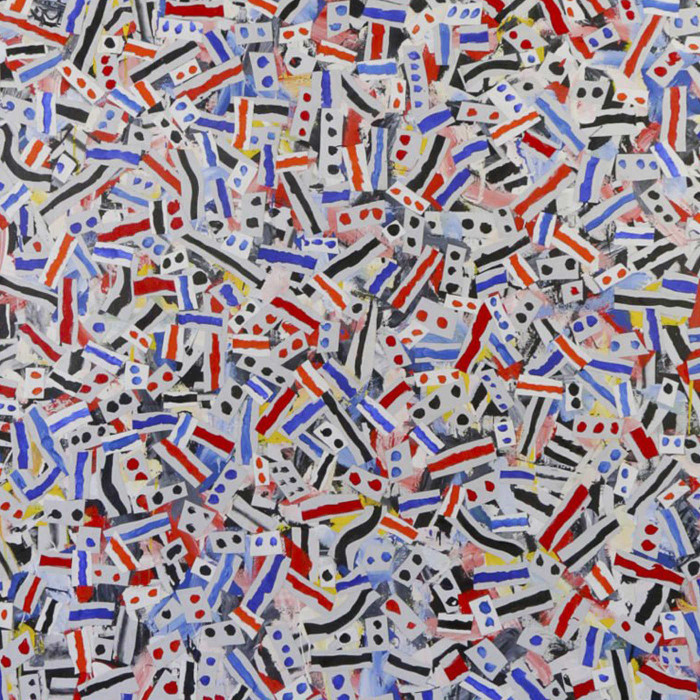 An Innate Eye: The Artist and The Collector
The Late Stanley J. Seeger Jr. Collection of Works by Joseph Glasco
April – June 2017
Following our recent exhibition Joseph Glasco: The David Chesler Collection, We are pleased to bring to the gallery a most important second private collection of works by this truly brilliant figurative expressionist artist. A fortuitous circle of events sparked into motion the communion of these two collections. With this catalog we are fortunate to bring 63 works by Joseph Glasco from the collection of the late Stanley J. Seeger Jr. to Cleveland from his estate in London, UK.
" The American painter Joseph Glasco is an artist of rare gifts. He has a highly complex, idiosyncratic conception of the figure as a pictorial device. He is an exquisite and dramatic draftsman, who, even when he chooses to work in black and white, has the ability to endow his (usually elaborate) images with an aura of sensuality. He is also a powerful designer, who confers on every area of the picture surface a very personal and empathetic visual quality."
--Hilton Kramer, NYT Review of Joseph Glasco, at Catherine Viviano Gallery, New York, Feb.7, 1970
Wolfs Gallery is fortunate to be able to retrieve from London the Stanley J. Seeger collection of works by American artist Joseph Glasco. The forthcoming exhibition of nearly 100 works will put all periods of Glasco's work together for the first time in three decades, providing an opportunity to examine in total a shockingly brilliant American artist.
With this exhibition we expand our exploration of the work and career of this fascinating 20thc. artist, who in 1950 achieved the distinction of being the youngest living artist to have a work acquired by the Museum of Modern Art, New York.
As a young artist in New York in 1950, Glasco became a friend of both Pollock and Dubuffet and was among those who would soon become the most coveted painters of the time. At the same time Glasco was an artist swimming against the tide. His style represented a kind of figurative expressionism, and remained so until he began producing large-scale painted canvas collages in the mid to late seventies.
Notably, the earlier works of Joseph Glasco have not been examined in depth since the very first show at the Contemporary Art Museum in Houston in 1986.
This new exhibition allows a further examination of one of the greatest art collectors of the 20thc, Stanley J. Seeger Jr. Seeger is widely known for his astute and far-reaching collections, having amassed close to 100 Picassos as well as an enviable trove of modern masters from Matisse and Miró to Giacometti and Francis Bacon. He was also a generous patron of many living artists. As Raeburn has written,
. . ."Seeger is like a magician who allows us glimpses into a secret world, and the magic touches all the pieces he has collected . . .it is the collection of a magician . . .the magic does not rub off."
Joseph Glasco was one of the artists Seeger loved most; he acquired his first work from the Catherine Viviano Gallery in 1955 and continued to collect for forty years. Artist and collector became good friends and Seeger remained true to Glasco throughout his life. Glasco traveled around Greece on Seeger's sailing yacht and spent time at Seeger's house in Lanzarote, Canary Islands, as well as his Tudor manor Sutton Place.
The exhibition provides a rare opportunity to appreciate the timeless work of an artist collected in his lifetime by the finest connoisseurs and absent from the art market for the two decades since his death.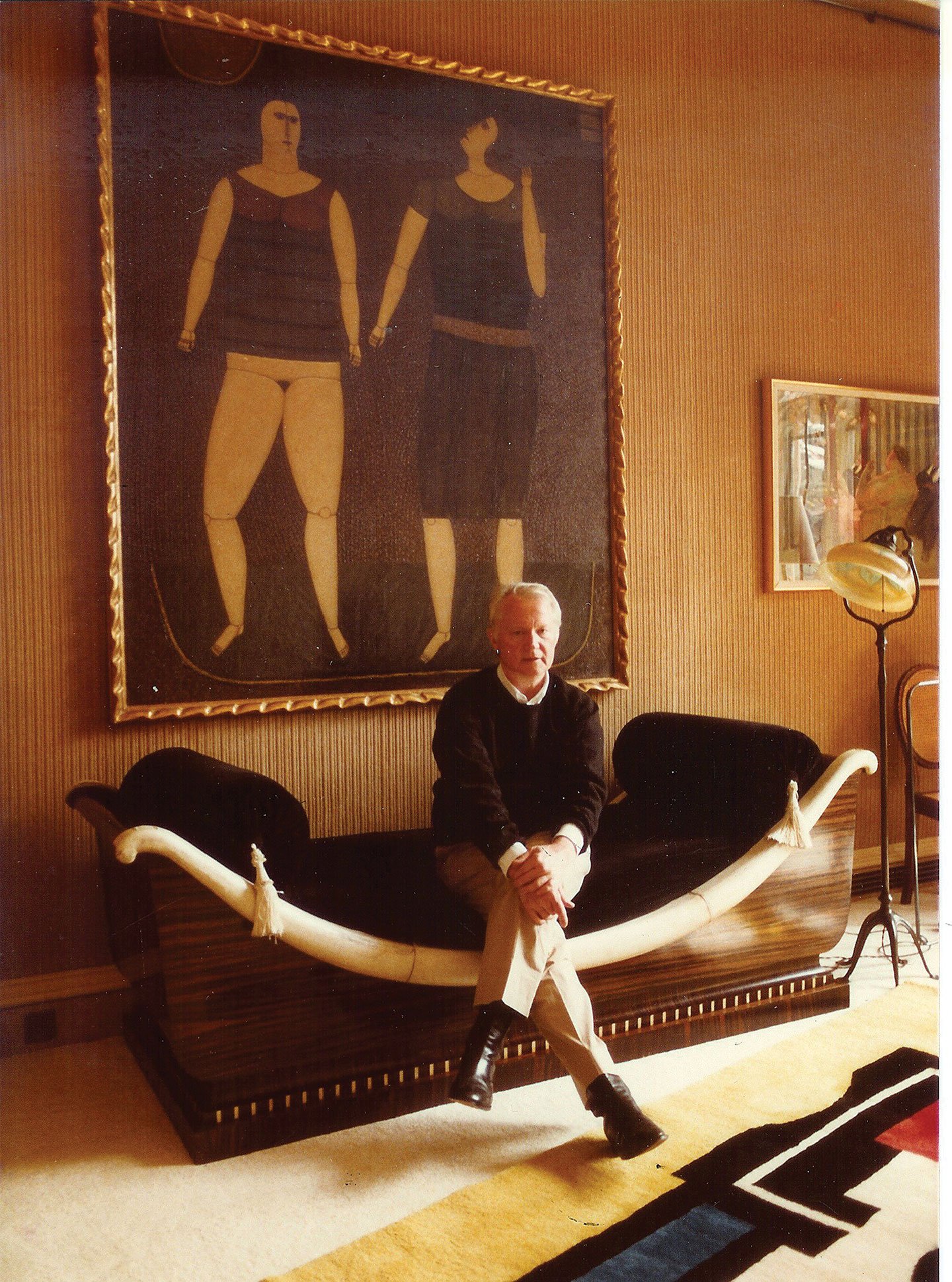 Glasco seated under his famous painting Salome at Sutton Place, Seeger's Tudor manor house in England
Joseph Glasco (American 1925-1996) Joseph Glasco, Figurative Expressionist, was raised in Texas and served in Patton's Third Army with distinction. Following the war he studied art in Europe, Mexico and California before arriving in New York in 1949. For a short time he attended the Art Students League, and soon after was awarded a one-man show at Perls Galleries in 1950. This was followed by the purchase by MoMA of one of his drawings and his subsequent inclusion in the important show at MoMA, 15 Americans, in 1952. Success followed, and representation by the Catherine Viviano Gallery in New York. He was exhibited in many exhibitions at the Metropolitan Museum of Art, NY; the Museum of Modern Art, NY; the Whitney Museum of American Art, NY; the Solomon R.Guggenheim Museum of Art, NY; the Brooklyn Museum; the Art Institute of Chicago; the Corcoran Gallery of Art, Washington DC; Museum of Fine Arts, Houston; Dallas Museum of Fine Arts; Detroit Institute of Arts; Los Angeles County Museum; Virginia Museum of Fine Arts; and many more. He is represented in many museum and distinguished private collections. Glasco continued to travel throughout his life and seldom stayed in any one place for long periods. In 1973 he settled in Galveston and traveled between Texas and New York until his death in 1996.
Stanley J. Seeger Jr. is widely recognized as one of the greatest art collectors of the 20th century. His collection of Joseph Glasco began in 1955, with the purchase of 'Salome'. Seeger continued to collect the work of Glasco until his death in 2011.
Remarks on the artist and collector by Michael Raeburn, scholar and author of 'Joseph Glasco: The Fifteenth American' along with his wife, Dr. Marilyn McCully, noted scholar and Picasso expert.