Hiding in plain site, Ken Nevadomi (b. 1939) is a blue-collar artist from the gritty side of Cleveland with remarkable ability as a painter, and the bubbling, fertile mind of a gifted storyteller. While well-recognized in Cleveland in the 1980s, and oftentimes honored in this region, Nevadomi's artwork is otherwise unknown. This rediscovery will certainly change that.
Extensive Nevadomi Exhibition and Sale coming this Fall (learn more)
---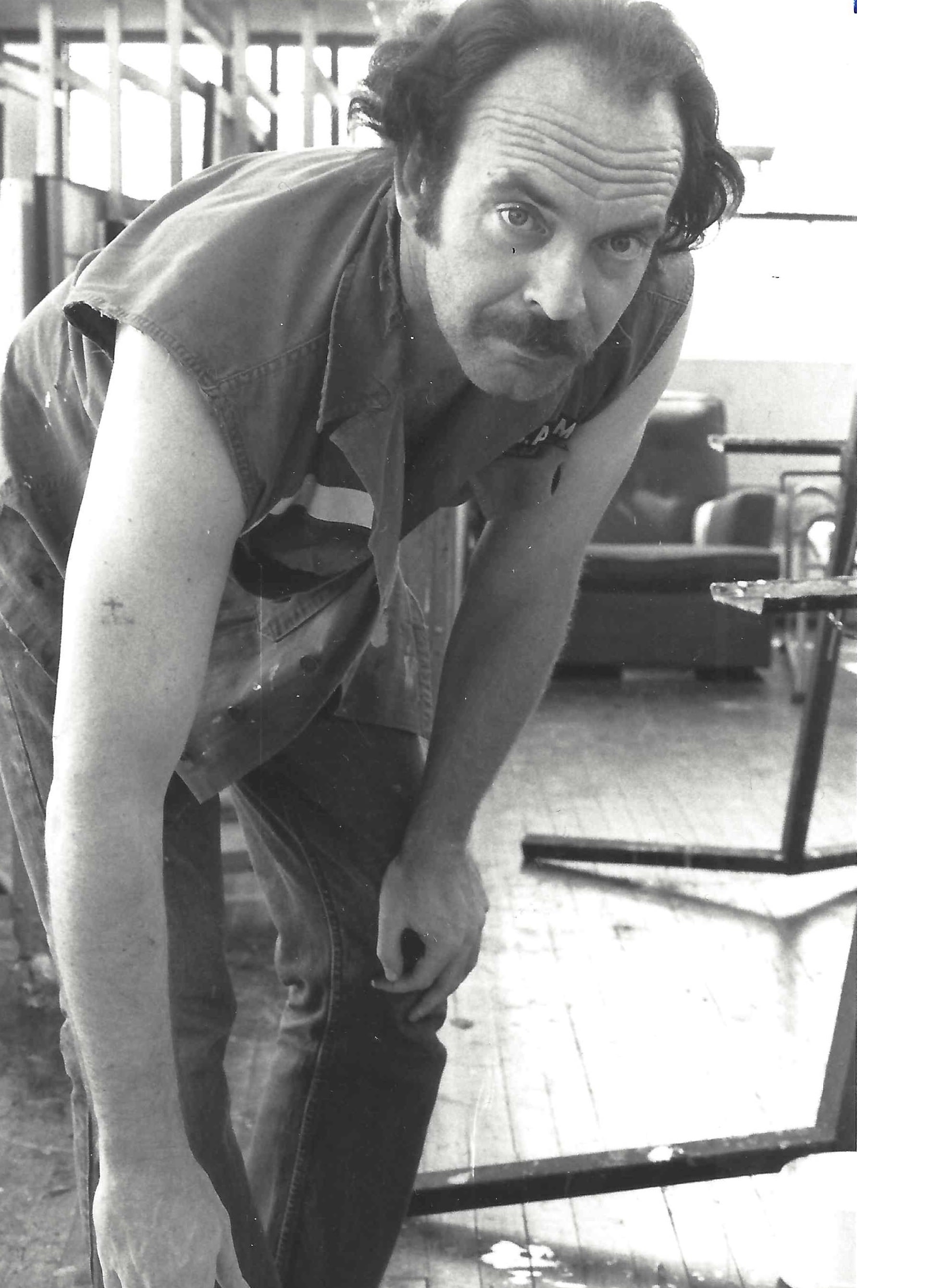 Kenneth John Nevadomi, born in Cleveland, Ohio in 1939, is an American artist and renowned Neo-Expressionist. He grew up in what is now called Slavic Village, on the east side of the city. He attended Garfield High School in Cleveland but did not graduate, enlisting in the United States Air Force at the age of 17 in 1957 and served until January of 1961, when he received an honorable discharge. Nevadomi completed his GED while serving in the Air Force, stationed primarily at Williams Air Force Base in Arizona.
In May of 1961, Nevadomi enlisted in the U.S. Army, traveling to Turkey, Greece, Germany, and Lebanon overseas, and New Orleans, LA, serving as a surveyor in the 41st Artillery. Again, he received an honorable discharge, and earned a commendation as a sharpshooter. Nevadomi has stated that it was his intention to make his career in the military but began to recognize and develop his drawing abilities while in the Army, doing portraits of his fellow servicemen, as well as their wives and families. At this time, he also discovered his talent for painting, which he has described as an epiphany.
When his Army term was up in 1964, Nevadomi returned to Cleveland and enrolled in the Cooper School of Art. He earned his Associate Degree in Fine and Commercial Art from Cooper in 1967. Nevadomi also worked as a television graphics designer and artist for the Cleveland Board of Education from 1965 to 1967.
From 1968-70, he was employed by American Greetings in Cleveland. One of his co-workers was Robert Crumb, one of the founders of the Underground Comics movement. Subsequently, in 1972, Nevadomi earned a Bachelor of Fine Arts in Studio Art from the Columbus School of Art and Design, and a Master of Fine Arts in Painting from Kent State University in 1975. Nevadomi served as Poetry and Graphics Editor for Shelly's Magazine from 1974-75. After part-time teaching stints at Glenville High School, the Cooper School of Art, and Cleveland State University, Nevadomi was hired as Assistant Professor of Painting at Cleveland State in 1978. He retired as a Full Professor in 2011. He is currently Professor Emeritus.
His work is included in the art collections of the Cleveland Museum of Art, Progressive Corporation, Premier Industrial Corporation, Jones Day Cleveland, McMaster-Carr Company, and BP, among others. His work is owned by private collectors in Ohio, New York, DC, Florida, and Illinois.
Nevadomi's art has been reviewed in many publications including the Cleveland Plain Dealer, Dialogue, Cincinnati Enquirer, Washington Post, New Art Examiner, Village Voice, Art News, and Art in America. In 1984, he was the featured artist in the video series, "Artists in Residence," produced by the Smithsonian Institution in Washington, DC.
Nevadomi has an extensive exhibition record. Highlights include group exhibitions at the New Museum and the Alternative Museum in New York City, the Corcoran Gallery of Art in Washington, DC, the Cleveland Museum of Art, Butler Institute of American Art in Youngstown, and the Canton Art Institute.
He has won numerous awards from organizations including the Cleveland Museum of Art, the Butler Institute of American Art, Women's City Club of Cleveland, and the Ohio Arts Council. He was awarded the Cleveland Arts Prize in 1988.
Ken Nevadomi mounted sixteen solo exhibitions between 1975 and 2021, including shows at the University of Cincinnati, Ohio University, Osuna Gallery in Washington, DC, and the Bonfoey Gallery and SPACES Gallery in Cleveland. His most recent solo exhibition was at the Artists Archives of the Western Reserve in Cleveland. In October of 2021, he will have his debut solo exhibition at WOLF'S Gallery in Beachwood, OH.