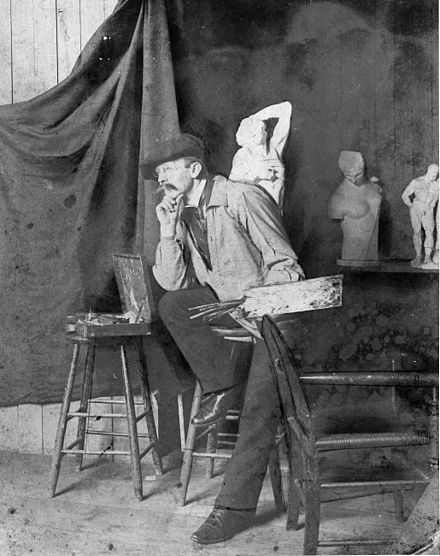 Gottwald, originally from Vienna, where he was born on 15 August 1858, would become the leading impressionist painter in Cleveland, Ohio. As a four year-old, Frederick came to America with his parents. To begin, his teacher was Archibald Willard (1836-1918), the first president of the Cleveland Art Club, founded in 1876. Willard's claim to fame was the icon of American history known as The Spirit of '76, the painting first known as Yankee Doodle. The original hangs in Marblehead, Massachusetts' Abbot Hall. Gottwald continued his studies in New York under William Merritt Chase, then in Munich (1882-85). Back in Cleveland, he was appointed instructor at the Cleveland School of Art where he would teach until 1926. In 1893, Gottwald was one of the founders of the Brush and Palette Club. He was also a leader of the Cleveland Society of Artists, founded in 1907.

Gottwald exhibited his paintings mainly in Cleveland after making his debut at the National Academy of Design in 1892 (he exhibited there only through 1898). At the Boston Art Club Gottwald submitted Market in Quebec in 1896. The painter kept a foot in the Old World, but not in his native Austria, as one might suspect. Instead, he spent summers in the Netherlands (1896-1904) and in Italy (1907-15). Gottwald helped to spread America's "Holland mania" by bringing back props and costumes to be used by Cleveland Institute of Art students. As Stott (1998, p. 41) explains in Holland Mania, "by these methods . . . many 'Dutch' paintings were produced in the United States for the ever-growing market." Gottwald dropped the dark Dutch manner for a more modern, sun-filled palette. Keny and Maciejunes (1994, p. 32) see the influence of Maurice Prendergast in the decorative quality, the flattening of space, and the rich use of impasto pigment.

In 1926, when Gottwald retired from teaching, the trustees of the Cleveland School of Art proclaimed: "The influence of Mr. Gottwald in the development of Cleveland as an art center is simply immeasurable. There is hardly an artist or craftsman of reputation in the city that has not at one time or another studied with him in day or evening classes. . . . He leaves his teaching at the very height of his powers, to devote himself to landscape painting." (quoted by Edna Clark, 1932, p. 341). Gottwald died in Pasadena, California, on 23 June 1941.


Sources:
Clark, Edna Maria. Ohio Art and Artists. Richmond, VA: Garrett, and Massie, 1932, p. 341, 343; Gerdts, William H. Art across America: Two Centuries of Regional Painting, 1710-1920. New York: Abbeville Press, 1990, vol. 2, pp. 220-221; Sackerlotzky, Rotraud and Mary Sayre Haverstock, F.C. Gottwald and the Old Bohemians. Exh. cat. Cleveland Artists Foundation, 1993; Keny, James M. and Nannette V. Maciejunes, Triumph of Color and Light: Ohio Impressionists. Columbus, OH: Columbus Museum of Art, 1994, pp. 32, 61, 110-111.