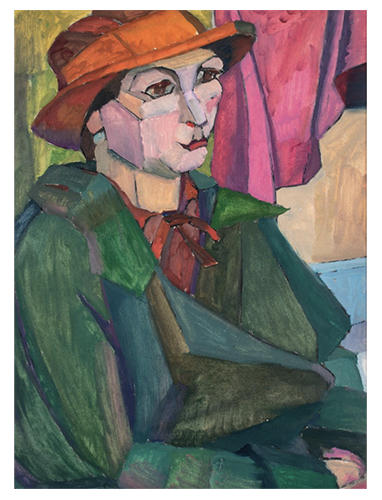 A graduate of the Cleveland School of Art in 1912, Clara Deike was part of the watercolor movement in Northeast Ohio whereby the outdoor sketch became a distinct genre. The group formed the Cleveland Watercolor Society in 1894, and members typically painted outdoors during the summer, enjoying watercolor for its fast-drying properties.

She was a student of Henry Keller, 1869-1949, the first Ohio artist to attain distinction as a watercolorist. With him, she developed a modernist style but she utilized his color theories and went further with her own personalized style that emphasized two-dimensional, decorative design. She often used opaque gouache because of its capacity to give the appearance of flattened forms.
Her art training was later supplemented by study with Hans Hoffman in Munich and Capri and with Diego Rivera in Mexico. Her style ranged from still lifes and landscapes to abstract experimentation in her later years.
A founding member of the Woman's Art Club of Cleveland, Deike served as the group's president in 1919-20. Never married, she maintained studios in her Lakewood residence and in a summer home in Gloucester, Mass.
In 1912, eight years before women were even granted the right to vote, being a female artist in Cleveland wasn't easy. Most artisic opportunities, outlets and organizations were only available to men. Clara L. Deike was one of the twenty-five women who changed everything. As the womens rights movement swirled around them, these women took matters into their own hands and launched the Women's Art Club of Cleveland (WACC). The WACC, the first art organization in Cleveland to be composed entirely of women, had a dual, but simple goal – to learn and to teach. The group held it's first exhibition in 1913, reached it's pinnacle in 1930 with over 150 members, and was active for over 94 years.
. . . Continue reading: ARTe (www.arteforeverybody.com/deike) . . .