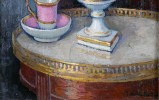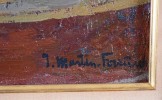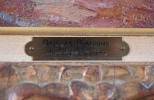 Artist: Jacques Martin-Ferrieres (French, 1893–1972)
Medium: oil on canvas
Signature: signed lower right
Dimensions:
25.5 in. h. x 19.5 in. w., canvas
33.5 in. h. x 27.5 in. w., as framed
Description:
Provenance: Roundwood Manor, Hunting Valley, Ohio
Condition:
Canvas slightly buckled from heavy palette. Some small losses near center top of bouquet. Some touch-ups and inpainting scattered throughout, mostly in lower area around table.
Type of Work: Paintings